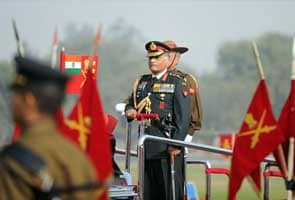 New Delhi:
The Supreme Court is today hearing the Army chief's case against the government - General VK Singh wants his date of birth to be accepted as 1951, and not 1950 as some records state.
The Defence Ministry has, in a major move, withdrawn its order that rejected the Army chief's petition to change his date of birth. That order, dated December 30, was faulted by the Supreme Court at its last hearing on the matter exactly one week ago. The judges said the technique used by the government to turn down General VK Singh's request was "vitiated" or faulty. The court had said that if the government didn't revoke the order, the judges would invalidate it. That was seen as a victory for the General in the first round of his legal battle. (Read-
Army Chief Vs Govt: Top 10 developments
)
However, the government says it stands by its July decision to reject the chief's appeal.
The Army chief has taken the unprecedented step of taking the government to court because he wants his date of birth to be amended to 1951 in all Army records. Currently, documents show both 1950 and 1951 as his year of birth. The government has said that it cannot at this point change records that helped establish General Singh's seniority when granting him major promotions.
The judges said last Friday, at the first hearing of the case, that the government had used the opinion of the same legal expert -the Attorney General - to rule against the General's appeal on his age: first in July last year, and then in December, which was his last chance to settle the matter internally.
The Supreme Court said the government's procedure violated the principles of natural justice. Attorney General GE Vahanvati told the court he would consult the government about how it wanted to react to the court's stand.
General Singh is scheduled to retire at the end of May based on his date of birth being May 10, 1950. If the court accepts that he was born a year later, he will be eligible for another year in office, though he has said in his petition to the Supreme Court that it is the government's prerogative to decide on his tenure.