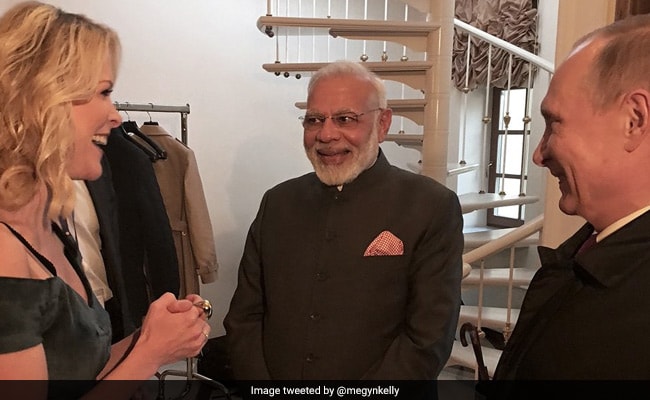 Highlights
PM Modi has over 30 million followers on Twitter, 41 million on Facebook
PM Modi is the second most followed world leader after Donald Trump
PM Modi said he had seen a post by Ms Kelly with an umbrella
American journalist Megyn Kelly is being pummelled on social media over her meeting with Russian President Vladimir Putin and
Prime Minister Narendra Modi in St Petersburg
. Just one of the many reasons is her question to PM Modi, one of the world's most followed politicians: "Are you on Twitter?"
Ms Kelly, who launched her new show on NBC News with the interaction, has been accused by some of not doing her homework properly on PM Modi.
The awkward exchange took place before Ms Kelly recorded the meeting for her show at the Konstantin Palace. While she was greeting the two leaders, PM Modi said he had seen a post by the journalist with an umbrella.
Ms Kelly responded: "Oh really, did you? Are you on Twitter?" PM Modi appeared to smile and nod.
Online, the response among Indian users to the journalist's absurd question has been brutal.
This is like sharapova asking who is sachin

- Rd_ostwal (@RD_OSTWAL) June 2, 2017
@megynkelly obviously hasn't done her homework. Asking the 3rd most followed politician if he was on @twitter is ridiculous! @narendramodi

- Mahesh (@vipramah) June 2, 2017
@megynkelly You asked the wrong guy is he's on Twitter !!! You're a journalist, some homework is needed !

- Akash Bhasin (@mangoppl16) June 2, 2017
Megyn Kelly To Modi - Are You On Twitter? @megynkelly Please have a look on the Follower stats of @narendramodi and yours. pic.twitter.com/jCCKcWrrdm

- Moti Sutar (@sauron519) June 2, 2017
PM Modi has over 30 million followers on Twitter and over 41 million on Facebook. He is the second most followed world leader on Twitter after US President Donald Trump.
He is known for
posting comments, greetings, videos and photos
regularly on social media and his official @PMOIndia handle has 18.2 million followers.
Some posted disparagingly that in comparison, Ms Kelly, a former Fox News anchor, has only over two million followers on Twitter.