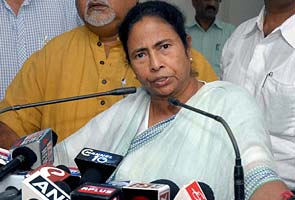 Kolkata:
Faced with all-round criticism over the rising instances of crime against women, West Bengal Chief Minister Mamata Banerjee on Sunday sought to defend her government by counter-posing: "Are all women in the state being raped?"
Addressing a Trinamool Congress rally in North 24-Parganas district's Minakhan, Ms Banerjee vented her ire on a section of media which has been highlighting the crimes against women in the state.
"These channels have colluded with the opposition and are running a smear campaign against the government. By doing so, they are disrespecting the soil of Bengal," she said. The Chief Minister had earlier claimed that a "media house was conniving with the opposition to murder her".
The Trinamool chief has been receiving flak from various quarters of the society after she rebuked villagers who were protesting the brutal gang-rape and murder of a college student in Kamduni village in the district.
In a bid to deride her detractors, Ms Banerjee earlier had said: "They blame me for everything. Now, they are even blaming me for rape. As if it was I who went to rape... only if I were a man."
The state recently witnessed a spate of alleged rapes and murders. The National Crime Records Bureau has put Bengal at top the country's charts in crimes against women with as many as 30,942 such incidents reported in the state in 2012. The state government had, however, contested that claim.