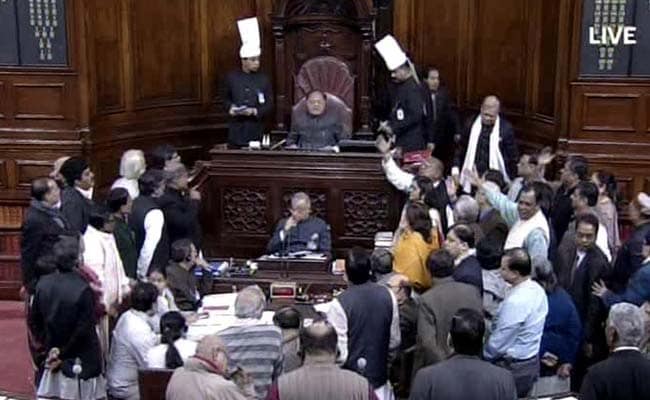 New Delhi:
Prime Minister Narendra Modi's absence in the Rajya Sabha on Friday gave the Opposition enough ammo to halt the proceedings of the House, who have been demanding his statement on the issue of conversion.
The House was first adjourned till noon, and then till 2:30 pm as the logjam over religious conversions continues.
When the PM attended the House on Thursday, an unrelenting Opposition had made it clear that the logjam can be broken only if Mr Modi cleared his government's stand on the issue. "It's good that the Prime Minister is here. He should listen to all the concerns expressed by the members and address them," said CPIM leader Sitaram Yechury.
His suggestions were met with stiff resistance from the treasury benches. Parliamentary Affairs Minister M Venkaiah Naidu said, "Let there be a debate and the minister concerned will reply."
As the PM looked on, members sparred with each other. "Out of two houses, one is functioning normally and the other isn't. It's the arrogance of numbers and not that of the government," said Arun Jaitley, who's the Leader of the Rajya Sabha.
The Finance Minister pointed out that earlier the House didn't function despite the PM making statement on the issue of a hate speech by one of his ministers, Sadhvi Niranjan Jyoti.
Mr Yechury hit back: "Yes even after PM's assurance, such statements have not stopped."
Deputy Leader of the Congress in Rajya Sabha Anand Sharma asked, "Is the ruling party saying that the Prime Minister who's a very capable speaker won't speak on this issue?" BSP's Mayawati too urged the Prime Minister "not too make it a prestige issue" and clear his stand.
Though the government had agreed to a debate on the issue of secularism, it didn't quite agree to the Opposition's demand of PM making a statement on the issue.
In a House of 245 members, the NDA government has only 65 MPs. This situation can change only by middle of 2016 when one-third of the members retire and BJP wins most of the assembly elections to send more Rajya Sabha MPs. Until then, a united Opposition can easily stall key reforms bills like hiking Foreign Direct Investment or FDI in the insurance sector or introducing the far reaching tax reform, the Goods and Services Tax bill.