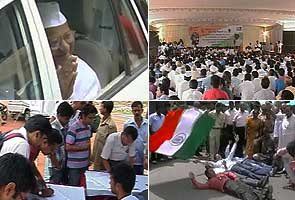 New Delhi:
Through a day that saw gatherings on the streets in support of Anna Hazare, the government tried to justify its action against the 74-year-old activist. He was arrested from the apartment where he was staying in Delhi shortly after 7 am; at 12 pm, he was produced before a special magistrate at the Delhi Police Mess in north Delhi; and by 3.30 pm, he had been sent to Tihar Jail.
Home Minister P Chidambaram tried to explain the government's stand in the Lok Sabha. A heaving Opposition said the Prime Minister would have to make a statement instead.
Congress General Secretary Rahul Gandhi met with senior ministers including Pranab Mukherjee and P Chidambaram for the second time in 24 hours to discuss the government's conundrum- how to show it's still in charge without appearing to be coming down too hard on a crusader against corruption.
So the Home Minister used a press conference to justify the arrest of the man who is the face of the India Against Corruption campaign. Mr Chidambaram said that the government had no choice because Mr Hazare and his supporters had refused to comply with police directives for their protest. The preconditions included a three- day limit on Mr Hazare's hunger strike, and a commitment to limiting the crowd to 5000 people.
"The right to protest is a constitutional right but it should be done with reasonable restrictions," said Mr Chidambaram.
Mr Hazare is challenging the government over the new Lokpal Bill that is meant to curb corruption among politicians and bureaucrats. Mr Hazare says the bill introduced in parliament is a malnourished one. His team has developed a parallel version - the Jan Lokpal Bill or people's bill. His critics say that Mr Hazare's bill is impractical and grants the Lokpal or ombudsman over-reaching powers that can be grossly misused. They also say that Mr Hazare is not an elected representative; cannot assume that he is the lone spokesperson for civil society; and that legislation is the prerogative of parliament.
At demonstrations in several cities where people courted arrest, none of those arguments seemed to count.
In sharp contrast to the weekend, when its spokespersons targeted Anna with references to a report that suggested financial malpractices within some of the trusts he runs, today, the government avoided getting personal. Notably, though, no comments against Anna were retracted.
The Cabinet Committee on Political Affairs which includes senior ministers from the Congress and its allies also focused on the currents swirling around Mr Hazare. The panel decided that the battle with Mr Hazare has turned into a full-blown media war where the government has lost ground by not being able to share its views correctly. Another conclusion drawn- that a united Opposition has found in Anna an effective channel in criticizing the government.
So the government's tone showed some resignation and a request to consider both sides of the story. "I want to ask the people of India," said Minister Kapil Sibal, "If I make a law...and say ' I want this passed. It has nothing to do with Parliament, I want this passed or else I will fast unto death,' can the government accept this?"
The government's stand that Anna's call for protest is a threat to parliamentary democracy was flatly rejected by the Opposition.
Leader of Opposition in Rajya Sabha, Arun Jaitley said that the opposition was united on the fact that Anna's arrest was undemocratic. Mulayam Singh Yadav, whose Samajwadi Party usually bails out the government in crises, also marked his discontent. He asked for Anna Hazare's immediately release.
But ultimately, it is the disagreement on the streets that the government may find toughest to tackle. The support by children, housewives, techies in Bangalore, suggests those running the country may need to find a better solution for how to handle Mr Hazare's dissent.
Get Breaking news, live coverage, and Latest News from India and around the world on NDTV.com. Catch all the Live TV action on NDTV 24x7 and NDTV India. Like us on Facebook or follow us on Twitter and Instagram for latest news and live news updates.