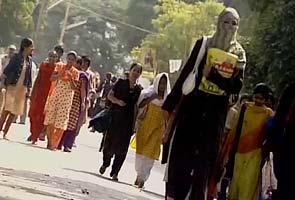 Hyderabad:
Over 70,000 students preparing to sit for state medical entrance tests in Andhra Pradesh are in a fix. The reason? The Central government has announced that the tests will now be a nationwide common entrance test based on the CBSE syllabus, which is vastly different from the syllabus followed in the state. Worried students say there is no time to prepare for this new syllabus and want the new system to start from the next academic year instead.
As Najeeha, a medical student explains, ''We have already completed the state syllabus and we are going through revision now. So again a new syllabus, at such short notice, preparing for an entirely new model, that is hard for us.''
The state-level medical entrance exam called Eamcet is, for these students, the biggest exam of their life. Every day each of them has been slogging from 7 am to 8 pm, for at least two years now, to prepare for it. Eamcet is based on the state syllabus for class XI and XII. But now with this exam having been scrapped, these students are worried about the new exam.
Jagan Mohan Rao, vice-chairman, Narayana Group of Institutions explains the difficulties involved for the students. ''They are asking the students of Andhra Pradesh to prepare this extra 40-50 per cent in biology and 20-30 per cent in chemistry. The new syllabus so far is not spelt out. The student is then in a fix about what is going to happen to his future.''
The additional problem is that out of the 70,000 students some 25,000 of them were hoping to write the exam in Telugu. That has now been allowed by the government but the problem is that the additional study material is not available in the language. There are 4,400 medical seats in Andhra Pradesh in government and private medical colleges and the students' chances could be affected as a result of this.
Finally, the biggest irony could be is that even if students from Andhra Pradesh qualify with exceptional merit in the National Eligibility cum Entrance Test, they may not be able to go to prestigious colleges outside Andhra Pradesh. This is because the state government has not allotted a mandatory 15 per cent seats to the national pool. So unless the government finds a solution, the anxiety of these students is likely to continue for some time to come.
The state government has tried to assuage angry and worried parents, teachers and students saying that they will try to appeal to the Central government to give the students at least two years notice, so the new exam format can begin in 2014. But many in the state government do not seem hopeful of a postiive response yet.