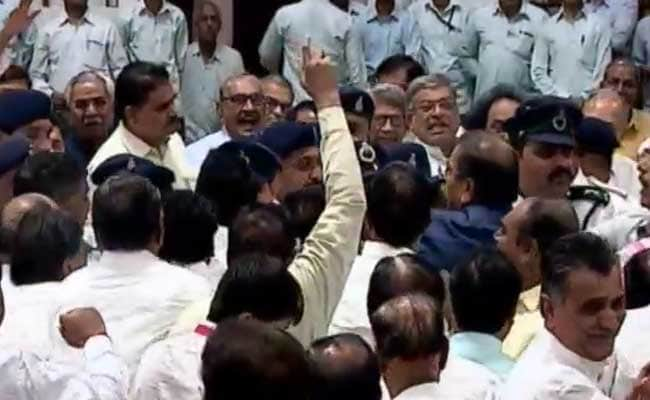 Ahmedabad:
Lawmakers came to blows in the Gujarat assembly on Thursday after an angry argument on the number of farmer suicides turned violent between Congress and BJP legislators. The casualty list included a minister in the Vijay Rupani government and two Congress members.
Two Congress legislators were later were suspended for the remaining period of the budget session for allegedly attacking ministers and BJP MLAs. The Congress had set the tone for the assembly session on Monday when opposition members forced Governor OP Kohli to cut short his customary address on the first day of the budget session.
It was a new low for the Gujarat assembly but there have been several incidents of lawmakers in other states clashing.
In Tamil Nadu last week, legislators ripped out microphones, broke chairs and clashed before the opposition DMK was thrown out during chief minister E Palaniswamy trust vote. A fortnight earlier, there were ugly scenes in the Jammu and Kashmir assembly and a microphone thrown at a marshal.
The trigger for the angry exchange on Thursday was a question by the Congress' Amreli legislator Paresh Dhanani who wanted the government to put a number on the farmers who had committed suicide in Amreli, and the adjoining Junagarh district in the Saurashtra belt. Agriculture minister Chiman Sapariya insisted there had been none, a response the Congress members insisted was being economical with the truth.
An argument broke out. Mr Dhanani and another Congress legislator Baldev Thakore rushed to the Speaker to protest. BJP members too stormed towards them. Somewhere down the line, they weren't just hurling abuses and the marshals had to be called in.
Among those hurt was Minister of State for Women and Child Welfare Nirmala Wadhwani. "Some Congress MLAs came from behind and started hitting me. The blow had such a strong impact that I lost my balance, fell and sustained injuries. The suddenness of the attack has left me stunned," Ms Wadhwani said.
Deputy Chief Minister Nitin Patel added it was Mr Thakore who attacked BJP members.
The Congress, on the other hand, blamed the BJP for the ruckus. "An MLA was attacked by a minister and a legislator of the ruling party. He is badly injured and now to cover up their act, the ruling party members have come up with their version of the attack on a minister," Congress legislator Shaktisinh Gohil alleged, adding that someone even tried to strangle him.
(With inputs from PTI)