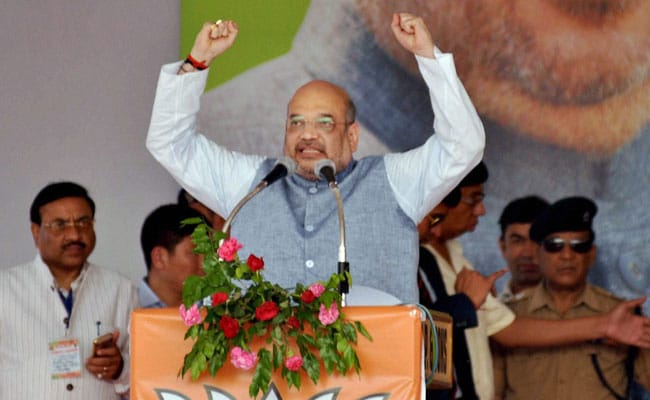 Barabanki:
BJP chief Amit Shah today said that Uttar Pradesh's government with its "three and a half CMs" has failed to maintain law and order. He also raked up the Kairana issue, claiming that incidents of Hindu families being made to leave were happening across Uttar Pradesh.
"Whatever best efforts Prime Minister Narendra Modi makes to ameliorate the plight of poor and Dalits, it will not translate into action as the state government is not willing to do so," Mr Shah said.
He accused the Akhilesh Yadav government of being unwilling to extend benefits of central schemes to the poor and Dalits.
"I want to ask Akhileshji where the additional Rs 2 lakh crore Modiji gave has gone. I want to tell you why the money did not reach you (people). Every state has one chief minister, but in UP there are three-and-a-half Chief Ministers if you take into account his father and uncles besides Mohd Azam Khan," Mr Shah said at a booth level workers' meet in Barabanki.
Mr Shah also took a swipe at the Samajwadi Party on the row over merger with gangster-turned politician Mukhtar Ansari's party - an alliance was later scrapped by Akhilesh Yadav - saying it was just "shadow boxing between uncle and nephew" and the party was "full of Mukhtars and Ateeqs".
"Recently the CM's uncle (Shivpal) merged Mukhtar's party with SP. People are aware of such theatrics of shadow fighting between uncle and nephew. You say you will not take Mukhtar Ansari into party fold, then what will you do about Ateeq Ahmed? SP is full of Mukhtars and Ateeqs," Mr Shah said.
Mr Shah alleged that the SP had "failed miserably" in maintaing law and order situation in the state and said the Kairana issue is also related to it.
"The UP government has redefined law and order as 'lo and order karo' (take bribe and issue order)," he said, adding, "This (exodus) is not taking place only in Kairana but in the entire state. The issue is related to law and order. Will (US President Barack) Obama handle law and order here," he said, noting that law and order was a state subject.
BJP MP Hukum Singh had alleged that several Hindu families have been forced to leave Kairana, though the claim was contested by the UP Government which denied any communal angle.
Mr Shah said until the present state government is not ousted, development of Uttar Pradesh would remain a distant dream.