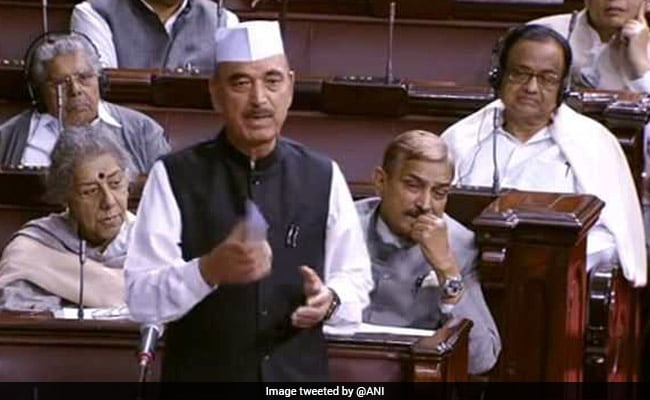 New Delhi:
Rajya Sabha was adjourned for the day minutes after senior Congress leader Ghulam Nabi Azad flagged three issues and demanded discussion on them. This was the second straight adjournment in two days -- yesterday, the upper house was adjourned early following protests over Cauvery waters issue by the members of AIADMK and demands on local issues by Telangana's ruling TRS.
With the second half of the budget session being hobbled by opposition protests since it started on March 5, Ghulam Nabi Azad said he was concerned about the passage of bills. The upper house has been adjourned without any business being conducted every day. "But unfortunately, no effort has been made by the government to discuss with us. This is the first time it has happened that no senior minister has approached us," Mr Azad said.
This morning, as foreign minister Sushma Swaraj announced in the House that 39 Indians who were kidnapped in Iraq three years ago are dead, Mr Azad rose to object. "It is indeed a very sad day for all the countrymen. But earlier this year, the government had assured that all Indians were alive," he said.
The remark earned a reproof from the chair. Pointing to Mr Azad's seniority, Rajya Sabha chairman Venkaiah Naidu said, "Please don't make this a matter of debate. I don't need to tell you".
Commenting that he had merely mentioned "a fact" on which there should be a debate another day, Mr Azad said there should be three subjects on today's agenda: irregularities in banks, special status for Andhra Pradesh and the Cauvery waters issue.
"We would like a debate about the loot that has been done in this country. We want to know what has or is being done," he said in an apparent reference to the Rs 11,000 crore fraud at the Punjab National Bank, on which the Congress has been targeting the government for nearly a month.
Protests by Tamil Nadu's ruling AIADMK in Lok Sabha yesterday on the Cauvery waters issue derailed the no-confidence move by the TDP, which quit the NDA recently over the special status issue for Andhra Pradesh.
"We are willing for a debate on this... This was all done during the days of the UPA. We also want to point out the facts in the House," Venkaiah Naidu said. But as the opposition members broke out in protests, he adjourned the house for the rest of the day.
Yesterday, Mr Naidu said parliament has become a "laughingstock" due to the repeated adjournments following protests from Well of the House. "This is not in the interest of the country, this is not in the interest of Parliament," he had said, asking members to allow the House to function.