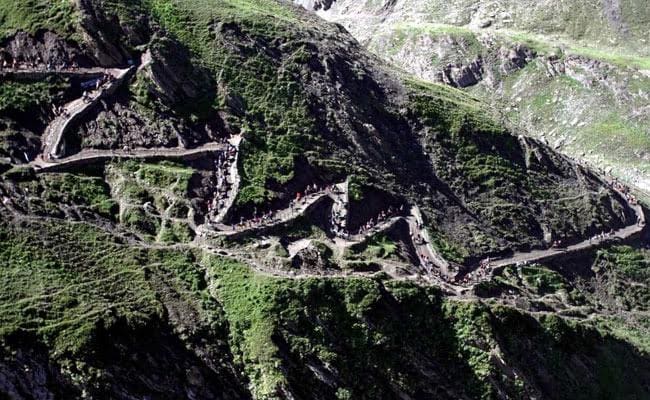 New Delhi:
Worried about a possible backlash
amid protests over the rape and murder
of an eight-year-old in Kathua, the centre is stepping up security for the Amarnath Yatra that is scheduled to begin from June 26 and continue for nearly two months.
Home Secretary Rajiv Gauba and other senior officials of the ministry have reviewed security for the annual pilgrimage to the cave shrine of Lord Shiva located in Jammu and Kashmir.
Also present were top police officials from the state that has seen communal polarization and a spate of protests in Jammu and the valley over the
brutality inflicted on the minor
.
Adding to the government's worries is the spike in the number of terror-related incidents. 60 incidents of terrorist violence took place in the state till March 4 this year in which 15 security personnel were killed, the home ministry had told parliament last month.
"Our information is that there are more than 200 active terrorists in the valley and, more importantly, recent trends show that they have become more brazen in their attacks. We have to take precautions accordingly," a senior officer told NDTV.
Convoys are most vulnerable as they travel along many districts so guarding them would a biggest challenge for security forces. After last year's
terrorist attack on pilgrims
, authorities don't want to leave anything to chance.
In the security meeting, Jammu and Kashmir police chief SP Vaid made a presentation on the changing scenario in the valley and challenges ahead of yatra and sought 225 companies of paramilitary forces.
These are in addition to the security grid already present. The additional forces will be given the tasks of road opening and giving security to pilgrims in the convoy and camps.
Personnel from two paramilitary forces -- Sashastra Seema Bal (SSB) and the Central Reserve Police Force (CRPF) -- would assist the police in dealing with law and order. This is in addition to the Border Security Force (BSF), the Indo-Tibetan Border Police (ITBP) and the army.
To ensure better communication, the Amarnath shrine board is laying optical fibre cables all along the yatra route. "Communication is a big issue. And if all goes well, two cellular operators -- BSNL and Reliance -- will also operate this season," said an officer.
Last year, over two lakh pilgrims took part in the yatra that lasted 45 days.