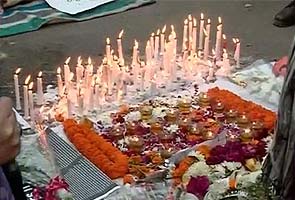 New Delhi:
The family of the 23-year-old medical student who died after being brutally gang-raped on December 16 said they would not rest until her killers are hanged as police finalised their investigation before charges are laid against suspects this week.
As the ruling Congress party reportedly pushed for tougher punishments for sex crimes, including chemical castration, authorities in Delhi launched a hotline to improve safety for women in a city dubbed 'India's rape capital'.
Around 400 university students gathered in central Delhi on Monday, vowing to continue their 'movement' until better safety measures are put in place and the guilty punished.
The woman, whom friends say was planning to marry in February, died of her injuries on Saturday in a Singapore hospital, nearly two weeks after being savagely attacked by men on a bus in Delhi. She was cremated on Sunday.
"The fight has just begun. We want all the accused hanged and we will fight for that, till the end," her brother told a newspaper in an interview published on Monday.
Delhi police said their probe was almost complete, pending the arrival of an autopsy report from doctors in Singapore and the conclusions of forensic experts, with charges to be unveiled on Thursday.
"It is up to the court to decide when the trial would begin," said police spokesman Rajan Bhagat.
Five men will face murder charges after allegedly luring the 23-year-old medical student onto a bus on December 16, and then taking it in turns to rape her and assault her with an iron bar before throwing her out of the moving vehicle.
The man whom she was hoping to marry, a 28-year-old software engineer, was also left with serious injuries after he too was attacked and dumped on the roadside.
His relatives told a newspaper that he had taken part in an identification parade of suspects at New Delhi's high-security Tihar jail.
While the country returned to work after a weekend marked by candlelit vigils and street protests, few people were in the mood to celebrate New Year. Many bars as well as the armed forces cancelled or toned down festivities.
Seeking to assuage anger at police and local officials for failing to prevent widespread violence against women, the Delhi government announced compensation of 1.5 million rupees (Rs 15 lakh) for the family of the murdered woman and promised one of her relatives a government job.
The young woman's father spoke of the impact of the tragedy on the family.
"My wife had hardly eaten in the last two weeks," he told the newspaper.
"She was exhausted... I think she was not ready to face the shock of our daughter's death, despite doctors always telling us that she was serious. She cried intermittently all of Saturday, but it got worse on the flight back home."
The father, who was at his daughter's bedside when she was pronounced dead in Singapore, said he too was struggling to accept the news.
"It is too painful. I have not gone inside her room. She was born in this house. Her books, clothes, they are all here," he said.
The attack has led to widespread calls for rapists to be executed in a country where the crime is so commonplace that it rarely gets a mention in the papers.
India does have the death penalty for "the rarest of rare" crimes although executions are only occasionally carried out.
Mohammed Ajmal Kasab, the only surviving gunman of the 2008 Mumbai attacks, was hanged last month but it was the first execution for eight years.
Rattled by the angry protests, Prime Minister Manmohan Singh has ordered a retired judge, JS Verma, to lead a review of laws on sex crimes.
According to reports on Monday, Singh's own Congress party may propose in its submissions to Mr Verma's inquiry that rapists serve up to 30 years behind bars and be chemically castrated.
"Certain proposals have been made but we cannot officially comment at this stage because the draft is not ready as yet," said a party spokesman.