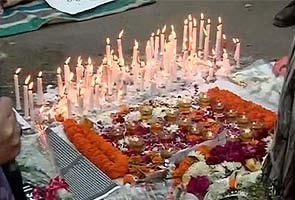 Ballia (Uttar Pradesh):
The ashes of 23-year-old medical student who was gang-raped and tortured in a moving bus in Delhi last month, were immersed in the river Ganga at the Bharauli ghat in Ballia on Tuesday. Hundreds of people, including women and children gathered there, most with tears in their eyes.
The ashes of the young woman, who fought for 13 days to survive before dying of severe organ failure in a Singapore hospital last Saturday, were brought to her ancestral village by her family late on Monday evening.
On Tuesday morning, the family left their residence for the ghat at 8 am, but the eight kilometres took them three hours to cover as hundreds of people joined them. As they immersed her ashes in the Ganaga, the woman's father and brother broke down.
The horrific assault on the girl shook the conscience of the entire nation, with people from all walks of life taking to the streets across the country in protest against the incident.
The girl was a para-medical student, and was raped and brutally assaulted by six men who also attacked her male friend and threw both of them out of a moving bus.