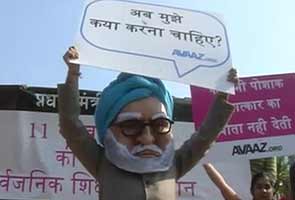 New Delhi:
The five men accused of the gang-rape and murder of a young student in Delhi want their trial to be moved from Delhi on the grounds that they cannot get a fair trial at a fast-track court in the capital. The Supreme Court has agreed to hear their petition tomorrow.
The brutal attack on the student on a moving bus in December unified India in anger and shock.
ML Sharma, the lawyer for Mukesh Singh, the man who was allegedly driving the bus when the student and her male friend were assaulted with an iron rod, told the Supreme Court today, "There is pressure to hang all the accused. Even children are asking when the accused will be hanged." He referred to protests that are held regularly at Jantar Mantar, the designated spot for demonstrations in Delhi, where students and activists are calling for swift justice for the student and tougher anti-rape laws. Today, protests were also held outside the Saket district court in south Delhi where the case is being heard. It will be formally moved to a special fast-track court in the afternoon.
For almost two weeks after her assault, Amanat (NOT her real name) fought for her life in hospitals in Delhi and Singapore. A wave of protests cascaded across India. The government initially grossly misgauged public sentiment, and refused to connect with the students marching in the streets; later, the Prime Minister and Congress president Sonia Gandhi promised severe punishment for the guilty and a speedy trial.
The five men face murder, rape, robbery, kidnapping and other charges, with prosecutors expected to demand the death penalty. A sixth suspect, who claims he is 17, will be heard by a separate juvenile court.
Defence lawyers say they will enter not-guilty pleas and accuse police of torturing the adult defendants -- aged between 19 and 35 -- to confess.
But prosecutors say they have DNA evidence linking the defendants to the attack. They also have the victim's hospital-bed declaration before her death and testimony from her 28-year-old companion who took part in identification parades after the ordeal.
Senior prosecutor Rajiv Mohan, who has vowed to seek the death penalty for the "heinous" crime, has said that "we have sufficient evidence against all the accused" to secure a conviction.

(With inputs from agencies)