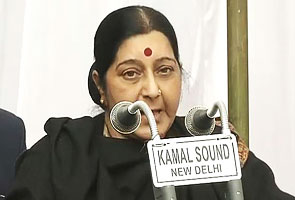 New Delhi:
After the 23-year-old medical student's death, BJP leader Sushma Swaraj today again called for a special session of Parliament to debate anti-rape laws. Ms Swaraj said that the next year should be used for strengthening all laws related to the safety of women.
"This year (in 2013), all laws related to women should be re-analysed. There should be toughest punishment for crimes against women," the Leader of Opposition in the Lok Sabha said.
"Instead of taking any action, they (the government) are only staging a drama. I asked the prime minister to call a special session (of parliament). But my demand was rejected. I also asked them to call an all-party meet. That demand was also rejected," she said, adding: "Even if they don't call a special session, the Budget session should be used for amending all laws for protecting women."
The Budget session usually starts in mid-February.
"I had given a private members' bill in February 2011 which said that if a girl is murdered after rape or abduction, then the accused should be given death penalty," the senior BJP leader said at the Bharatiya Janata Party-organised condolence meet
Ms Swaraj also paid a tribute to Amanat (NOT her real name), who died in Singapore on Saturday after she was gang-raped and assaulted on a moving bus in Delhi on December 16.
"She left but shook the conscience of this country as she left. She has become our nation's daughter. What was her fault? Why was she punished? She was brave; and hence, she fell prey to these tormentors," she said, adding, "This is not just a one-off incident. Child abuse incidents happen every day. Criminals of this city fearless of the police. Buses have become places of crime.

(With inputs from IANS)