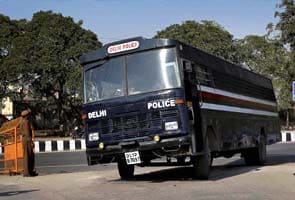 New Delhi:
The five men accused of raping and murdering a medical student on a bus in Delhi last month were brought to a special fast-track court today which will begin their trial on Thursday.
A lawyer for one of them says his client, Vinay Sharma, who worked at a gym as a fitness instructor, is under 18 and should be tried at a juvenile court. The police had said he is 20.
"My client is a minor and I have requested the court that his case should be moved to the juvenile justice court," Mr Sharma's lawyer AP Singh said to news agency AFP outside the courtroom, adding that a ruling was expected on Thursday, when the case will next be heard.
If convicted, the five men could face the death penalty. Their faces were covered by woollen scarves as they arrived in the court, surrounded by a ring of policemen.
In mid-December, they allegedly took a school bus out for a spin, pretending to be a charter bus that ferries passengers in Delhi, and attacked 23-year-old Amanat (NOT her real name) and her male friend with an iron rod after the couple bought tickets. They then allegedly took turns raping Amanat before throwing her with her friend onto the road. They wanted to run her over, the police has claimed, but her friend pushed her out of the way.
A sixth suspect in the crime which pierced India's conscience and provoked weeks of protests claims he is 17 and is being tried in a juvenile court, where the maximum sentence he faces is three years at a reform facility.
The judge of the fast-track court said today that the trial will be held in-camera or behind closed doors, with the media being told what parts of the proceedings can be reported. Defence lawyers wanted the proceedings to be held in an open court, but that motion was rejected by judge Yogesh Khanna partly to protect the identity of the student.
(Read)
The judge told the lawyers to prepare for opening statements on Thursday. Once the trial begins, daily hearings are likely.
Tomorrow, the Supreme Court will hear a request by defence lawyers to move the trial outside Delhi because they claim the weight of public pressure in the capital is weighing heavily on the government and the judiciary.
(With inputs from Agencies)