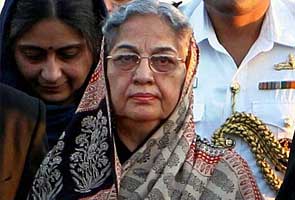 New Delhi:
The Prime Minister's wife has described the gang-rape of a medical student on a Delhi bus last weekend as "a horrible crime" which should be "condemned in the strongest possible way."
Gursharan Kaur also said that "the toughest punishment needs to be given to the accused, this case needs to go to a fast-track court."
The attack on the medical student has triggered an outburst of national anger with thousands of protestors, led by students, demanding stricter anti-rape laws and improved safety for women in Delhi and elsewhere.
For the first time this morning, the Prime Minister spoke on the assault that has outraged India, partly because no representative from the government addressed the demonstrators who gathered over the weekend at India Gate in the heart of Delhi. The silence by Dr Manmohan Singh fortified the perception that his government is hopelessly out of synch with the people.
"Anger at this crime is justified, but violence will serve no purpose," the PM said in a short statement. He asserted that his government will "make all possible efforts to ensure security and safety of women in this country."
Last year, the ruling coalition was criticized because it failed to gauge the mood of a country exhausted by corruption. Massive protests and rallies called by anti-graft campaigner Anna Hazare channeled that frustration into a movement that demanded stricter anti-graft laws.
The protests this weekend in Delhi resulted in a series of clashes with the police, which used batons, water-cannons, and teargas on the crowd. Miscreants who infiltrated the protestors set a car on fire and rushed police barricades, before setting wooden benches on fire.

(With inputs from Agencies)