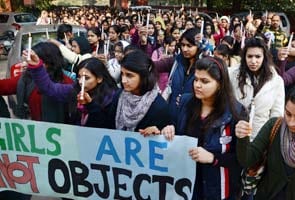 New Delhi:
The software engineer who was battered along with a 23-year-old medical student on a Delhi bus before she was raped by six men has been asked to testify on Wednesday for a government commission.
The relentless horror of the one-hour assault on the bus powered massive demonstrations in India. The government's initial inertia provoked more anger and it then appointed two commissions. One panel was asked to review existing laws covering sexual offences.
Another, headed by retired Delhi High Court judge Usha Mehra, was given till March to suggest how to make women safer in Delhi, the "rape capital" of the country, and to fix accountability for the myriad lapses that allowed the savage gang-rape of Amanat (NOT her real name) who died two weeks later.
Justice Mehra has summoned Amanat's friend for Wednesday, but sources tell NDTV he has yet to confirm whether he will show up. In a television interview, he recounted in chilling detail how Amanat and he were thrown from the bus by their attackers, and lay on the road bleeding, while many passers-by ignored them. Three police vans showed up, he said, and the officers who accompanied them wasted time arguing about whose jurisdiction applied, instead of moving the couple to hospital.
His testimony could indict the police for its response; though 7,000 suggestions have been received via email, mail and in person from the public, nobody has shared information about the police's alleged inaction when the couple was discovered on the roadside.
Senior members of the police force have been questioned by the commission including officer in charge Vivek Gogia today and many more are also expected.
While the police has not been castigated so far in any depositions, sources say the Uma Mehra commission has enough evidence to prove the negligence of the Delhi government's transport department and the city's traffic police.
The bus used for the heinous crime was contracted to a school; it had a range of serious traffic violations on its record, but had not been impounded. "How could a vehicle which had been caught six times, still ply on the roads,'' said a high-level official who testified for the commission.
The committee is also likely to fault the private school for hiring a bus from a private operator without checking its records.
The commission hopes to submit its report to the Home Ministry in February, a month before its deadline expires.