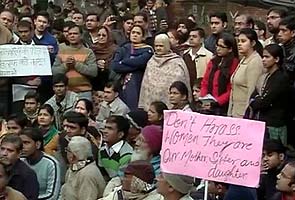 New Delhi:
Two days after the death of a young medical student, whose gang-rape on a moving bus shook the very core of India, the police is ready with a 1,000-page chargesheet, which it plans to submit in a Delhi court on Thursday.
Sources said that the police has cited 30 witnesses, including the doctors who treated the student, first in Delhi, and then at the Singapore hospital where she died on Saturday morning.
Key testimony lies in the statement of the software engineer who was accompanying Amanat (NOT her real name) on the bus and was assaulted with an iron rod by the six drunk men on board when he tried to protect her. The couple was planning to get married soon, said Amanat's neighbours.
While in critical condition in hospital, Amanat shared her testimony with two different judges. Her account was not video-taped, but will be the most important evidence in the trial. Daily hearings have been promised by the Delhi High Court and the government, to ensure that a verdict is reached quickly.
Senior police sources say that the chargesheet has been vetted by legal experts, and that the police will ask for the death penalty for the six men who have been charged with Amanat's rape and murder. One of them is a minor and cannot be tried in court. A report will be sent to the Juvenile Justice Board, which will handle his case.
The unabated monstrosity of the attack on Amanat has walloped India, stirring anger and protests, with thousands pledging to fight in her memory for better safety for women and tougher laws for those convicted of rape. Activists also point out the need for fast-track trials for rape cases to counter the perception that the notoriously slow legal system allows those accused of sexual and other crimes to escape punishment.

(With inputs from PTI)