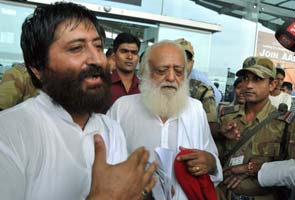 Ahmedabad:
Narayan Sai, who has been accused of rape along with his father, the famous spiritual guru Asaram Bapu, has released ads in Gujarati newspapers, refuting claims that he has gone underground to avoid been arrested on charges of rape.
In those ads today, Narayan Sai, 41, says that he is innocent and is not absconding. However, he has yet to report to the police for interrogation.
The police in Gujarat has sent summons for Narayan Sai to different ashrams run by his father in the state, but has been unable to locate him despite a hunt by six teams.
Asaram Bapu was arrested last month and is now in prison in Rajasthan for allegedly sexually assaulting a schoolgirl at his ashram in Jodhpur in August. He has denied the charges.
Over the weekend, two sisters accused Asaram and Narayan Sai of raping them at two different ashrams in Gujarat between 2002 and 2004. They said they were inspired by the school girl to come forward and report their story.