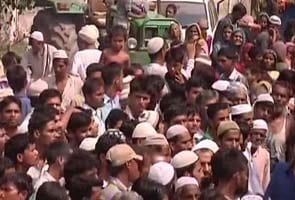 Muzaffarnagar:
Thousands of troops are trying to restore peace in Muzaffarnagar where 30 people have been killed in this weekend's communal violence in Western Uttar Pradesh.
Speaking to NDTV, senior police officer Arun Kumar conceded that a massive gathering of Hindu farmers that was allowed on Saturday was a "failed decision." It was as farmers were leaving this maha-panchayat in trucks and tractors that they were attacked with swords, sticks and guns.
Mr Kumar, the Additional Director General of Police, said that if the mega-gathering had not been allowed, violence would have erupted. "I am not making excuses, he said," adding, "It was a decision you can say that failed."
The Prime Minister phoned Chief Minister Akhilesh Yadav today and sought information on what steps officials are taking to stem the violence that continued yesterday and today in villages.
The chief minister has described the riots as "a political conspiracy" to destabilize his government. Opposition parties have demanded that his government be replaced with President's Rule.
The clashes erupted late Saturday after farmers met in the village of Kawal to demand justice for two brothers who were lynched after they allegedly killed a Muslim man who had stalked their sister.
Provocative speeches calling for action against Muslims were allegedly made during Saturday's meeting.
Clashes then broke out in neighbouring villages between Hindus and Muslims and the army stepped in to try to control the situation.
A video posted online appearing to show the two men being lynched aggravated tensions although police said it was faked. Though the video has been blocked, incendiary rumors spread by mobile phones and social media were still fuelling the violence and making it difficult for soldiers to restore calm, state police inspector Ashish Gupta said.