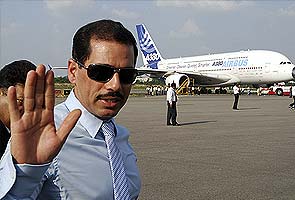 Allahabad:
Allegations against Robert Vadra "appear to be false, vexatious and based on hearsay", the Prime Minister's Office (PMO) has said, responding to a public interest litigation (PIL) filed in the Allahabad High Court.
Mr Vadra is the son-in-law of Congress president Sonia Gandhi and has been accused by Aam Admi Party founder Arvind Kejriwal of illegal land transactions in sweetheart deals with real estate giant DLF in Haryana.
The PMO has also said that the it has been wrongly made party to the case and can't be used to order inquiries against private citizens purely on the basis of media reports and dispute facts. The PIL, filed by an Right to Information (RTI) activist has demanded an inquiry into the allegations against Mr Vadra.
The PMO was responding to the PIL filed in the Lucknow bench of the Allahabad High Court. It also told the court in its response that the petition was based on media reports of purely commercial transactions which have been countered both by Mr Vadra and DLF.
Saying that the petition was not in "good faith", the PMO reply alleges that it is "it is driven by a desire for publicity and seems to be actuated by political considerations rather than public interest". It also says that the petitioner has "no knowledge of the truth" and has "not applied her mind nor conducted due diligence... to the factual and legal basis of the petition".
The allegations against Mr Vadra were that he had been given unexplained interest-free loans by DLF as well as hugely discounted properties in prime locations, in exchange for him allegedly using his influence to get the real estate firm favours from the Haryana government. The allegations had kicked up a political storm and he was vigourously defended by the top leadership of the Congress as well as Cabinet ministers.