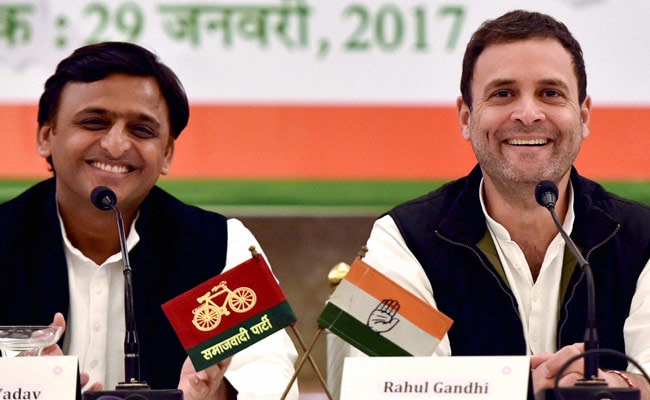 Lucknow:
Uttar Pradesh Chief Minister Akhilesh Yadav has drawn criticism for appearing to body-shame political rival Mayawati today while addressing a pres conference with Congress leader Rahul Gandhi. On Twitter, it was compared by many to BJP leader Vinay Katiyar's comments on Congress leader Priyanka Gandhi Vadra and Union minister Smriti Irani, which had triggered a flood of protests.
While speaking of the alliance during a joint press conference with Rahul Gandhi, Mr Yadav said, "How could we have given her (Mayawati) space (in the alliance)? She takes up so much space. Even her party symbol is an elephant".
Mr Yadav's Samajwadi Party and Ms Mayawati's BSP have always been traditional rivals.
His new ally, Rahul Gandhi, however, expressed his appreciation for Mayawati, saying he "personally respected" her even though her government made some mistakes while ruling Uttar Pradesh.
One could not compare Mayawati with the BJP and its ideological mentor, the RSS, Mr Gandhi said. "The BJP spreads anger. It makes one Indian fight the other. Mayawati does not pose that threat," he had said.
On Twitter, many expressed shock and outrage about Mr Yadav's comments.
Akhilesh Yadav just insulted and body shamed Mayawati today. Do you have the courage to condemn it? https://t.co/snipRj4gbt

- simanta talukdar (@enigma15in) January 29, 2017
Dalit ki Beti ka Majak udaya , Over to Mayawati ..!! https://t.co/YVkklMxKk4

- MurderedKing (@rajibhawaibam) January 29, 2017
Akhilesh Yadav body shamed Mayawati but no outrage. Secular hai bhai apne ladke.

- Samir Kumar (@samirkumar_) January 29, 2017
Mr Katiyar's recent comment on Priyanka Gandhi Vadra had drawn condemnation from across the board. Though Ms Gandhi Vadra laughed it off, Mr Katiyar's party, the BJP, condemned the remarks. Union minister Venkaiah Naidu called it "unacceptable". Mr Katiyar, however, had refused to apologise, saying, "What difference will it make? We have more beautiful star campaigners...heroines, artistes...they are better..." He had made a further gaffe, saying, "I think Smriti Irani (his party colleague and Union minister) is as beautiful and she is also campaigning."