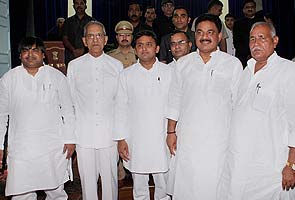 Lucknow:
In its third expansion in 17-month-old regime, the Uttar Pradesh government today inducted four ministers in the cabinet.
The ministers who took oath today are Narad Rai, Kailash Yadav, Ram Moorti Verma and Gayatri Prasad Prajapati. They were sworn in at a ceremony at the Raj Bhawan in the state capital Lucknow.
Samajwadi Party (SP) legislator from Ballia (Sadar) Narad Rai and Ghazipur legislator Kailash Yadav were sworn in as cabinet ministers while state minister Ram Moorti Verma was promoted as cabinet minister and Gayatri Prasad Prajapati was sworn in as minister of state with independent charge.
There were strong indications from the SP leaders that independent legislator from Kunda, Raghuraj Pratap Singh alias Raja Bhaiya, would also be sworn in again as a minister in the Akhilesh Yadav government, but he was not included in the reshuffle.
Raja Bhaiya had quit in March following allegations of having a role in the murder of deputy superintendent of police Zia-ul-Haq.
With today's expansion, the number of ministers in the Akhilesh Yadav government has gone up to 60.