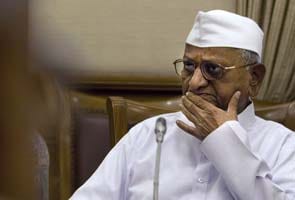 New Delhi:
Ajmal Kasab
, the only terrorist caught alive during the 26/11 attacks on Mumbai in 2008, was hanged at the Yerwada Jail in Pune at 7.30 am today.
(Read:
Kasab hanged, buried at Pune's Yerwada jail
)
Here are some reactions on the hanging:
Anna Hazare, Anti-corruption activist:
It's taken too long to hang Kasab. He should have been hanged in public (chauraha). A public hanging of Kasab would have been a lesson for anybody who causes loss of life in our country.

K Unnikrishnan, father of NSG commando Major Sandeep who died during the 26/11 terror attacks:
I have said in the past during my emotional moments that he should be hanged by the lamp post. But today I say it is done. This is one step. Surely , this is not a closure for us. The investigation must continue and the other culprits should be booked by Pakistan more than by India. (Watch: One chapter closed, many still open, says Unnikrishnan's father)

Smita Salaskar, wife of police officer Vijay Salaskar who was killed during the attacks:
With this hanging, homage has been paid to my husband. But the real homage will be the conviction of other accused shielded in Pakistan. Late Shiv Sena supremo Bal Thackeray had also demanded Kasab's hanging. His wish and our wish have been finally fulfilled. The entire family is happy to hear the news that Kasab was hanged, ahead of fourth anniversary of the attack. I hope death sentence of Parliament House attack convict Afzal Guru would also be executed soon. (Watch: I would like to thank the President, says Smita Salaskar)

Eknath Omble, brother of police officer Tukaram Omble who died while trying to capture Kasab:
I am proud and very happy that my brother's efforts have paid off. We are very happy and satisfied. Ajmal Kasab should have been hanged in public, but I know our law does not permit this. Home Minister Sushil Kumar Shinde has stood by his promise that he would take decisions that would satisfy Indians. (Read)


Sushil Kumar Shinde, Minister of Home Affairs:
Ajmal Kasab was hanged in Yerwada at 7:30 this morning. The President had rejected Kasab's mercy plea on November 5. I signed it on the 6th and the Maharshtra government signed it on the 8th. The same day, we decided that he will be hanged on the 21st. We would have considered Pakistan's request for the body, however, we have not yet received a request. The External Affairs ministry had informed Pakistan that Kasab will be hanged.
(Read: Pak refused to accept letter, says Shinde)

Salman Khurshid, Minister of External Affairs:
Everything has been done as per law. This shows the law applies to everyone the same. If Pakistan or the family asks for the body, we will consider it. Right now, we don't have any such request. Our letter was not accepted by Pakistan foreign office. We then sent them a fax indicating that the hanging will take place. We have fulfilled our obligation. Hope rule of law will prevail in Pakistan as well.
(
Watch: Hope rule of law will prevail in Pak, says Khurshid
)

Prithviraj Chavan, Maharashtra Chief Minister:
According to the law, proceedings were carried out. He was moved to Pune from Mumbai two days ago. The judge had fixed the date for hanging and the sentence was carried out accordingly. Kasab had refused a will. He has been buried in Yerwada jail. With this it has been proved that India's rule of law prevails. If someone breaks the law of land, he will be punished, even if it takes time and expenses. Any attack on the country will not be tolerated. (Watch: Kasab buried in Yerwada jail)


R R Patil, Maharashtra Home Minister:

This was an attack on our country. Many of our citizens were killed, including our brave officers. Nine terrorists were killed but one was caught alive. The special 26/11 court awarded death penalty to Kasab, High Court and Supreme Court upheld it. He filed a mercy petition, but was rejected and he was hanged at 7:30 am this morning. This is a tribute to people and police officers who lost their lives during the attack.
Omar Abdullah, Jammu and Kashmir Chief Minister:
Omar Abdullah tweeted: Gotta hand it to the Govts at the centre & in Mumbai for the mature way they handled this. Shows we can still keep a secret if we need to.
Narendra Modi, Gujarat Chief Minister:
Narendra Modi tweeted this message: What about Afzal Guru, who attacked Parliament, our temple of democracy, in 2001? That offence predates Kasab's heinous act by many years.
Digvijaya Singh, Senior Congress leader:
Digvijaya's tweet: Finally Kasab hanged. GOI should pursue the case of the Handlers in Pakistan. Afzal Guru's case should also be expidited now.

Mukhtar Abbas Naqvi, BJP leader:
Better late than never. This was in order. The enemy of the country has been punished.

Milind Deora, Minister of State for Information Technology:
Milind Deora tweeted: So much for the right-wing sponsored "Congress is soft on terror" debate! The Government's actions make me a prouder Indian.

Ujjwal Nikam, Special public prosecutor:
It is victory for the country. By hanging Kasab, we have paid homage to all those policemen and innocent persons who lost their lives. By Kasab's conviction and death penalty, we have proved how the entire conspiracy was hatched in Pakistan. We have set an example that India will not tolerate such attacks and the accused will be brought to justice. (
Read more
)

Lalu Prasad Yadav, President Rashtriya Janata Dal:
Kasab's crime was established in the court of law and justice was accordingly served. Bad deeds will lead to a bad outcome.

JK Dutt, National Security Guard Chief :
On hearing the news of Kasab's hanging, I felt all the ten terrorists who were involved in the incident were accounted for. But there is still some distance to be covered because there are other conspirators behind this incident sitting elsewhere and they need to be brought to account. We must remember those who lost their near and dear ones (during the 26/11 attacks), the incident will remain with them. (
Watch
)