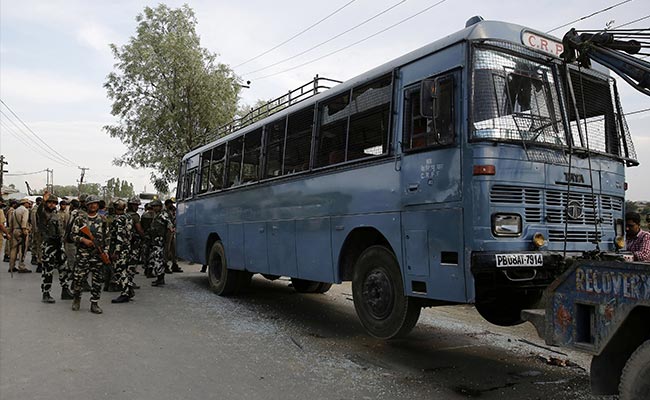 Highlights
Citing Pampore attack, BJP state unit demanded airstrikes on Pakistan
National Conference demands statement from government
8 CRPF soldiers were killed, 22 injured in attack claimed by Lashkar
Srinagar:
The Mehbooba Mufti government in Jammu and Kashmir confronted protests and questions today in the assembly over its ally BJP demanding airstrikes on Pakistan-based terror camps after Saturday's attack in Pampore in which eight paramilitary soldiers were killed.
"We should take tough action against Pakistan, bomb terror camps and teach them a lesson so that they never dare to attack us again," shouted the BJP's Ravinder Raina as others of his party raised anti-Pakistan slogans.
The opposition National Conference asked the ruling Peoples Democratic Party (PDP) to clarify whether it wants war with Pakistan. The party's Davinder Rana said: "BJP's demand of bombing Pakistan has hit the people living on borders. They fear for their lives. The government should make a statement whether they want peace or war with Pakistan."
As other NC legislators joined Mr Rana and tried to corner the government, BJP legislators raised slogans and said the Opposition leader should go to Pakistan.
On Saturday, eight Central Reserve Police Force or CRPF soldiers were killed and 22 others were injured when terrorists ambushed a bus at Pampore, around 15 km from state capital Srinagar.
Since yesterday, BJP members have been demanding airstrikes in Pakistan to avenge the Pampore attack, which has been claimed by Pakistan-based Lashkar-e-Taiba, the terror outfit that also carried out the deadly 26/11 attacks in Mumbai.
PDP legislators tried to pacify their slogan-shouting allies.
As the government declined to make a statement in house, National Conference members walked out of the house.