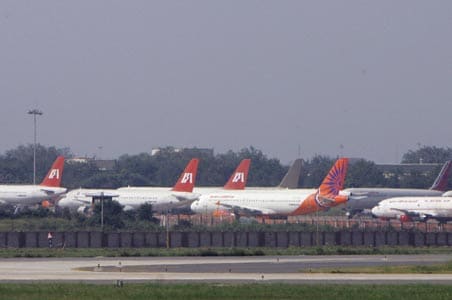 New Delhi:
India's national carrier, Air India, has decided to resume its flight to the US from Monday, 19th April 2010. The airline will operate its non-stop Boeing 777-200 LR flights, on the Mumbai-New York-Mumbai and Delhi-New York-Delhi sectors, a statement from the airline said on Sunday.
However, these flights will operate through alternative routes, in view of closure of the European Airspace.
The departure and arrival timings of the India-US flights are given below:
AI 141/140 (Mumbai-New York-Mumbai) - Departure Mumbai 0045 hrs, Arrival New York (JFK) 0910 hrs; Departure New York (JFK) 1930 hrs, Arrival Mumbai 2215 hrs (next day). All local timings.
AI 101/102 (Delhi-New York-Delhi) - Departure Delhi 0025 hrs, Arrival New York (JFK) 0825 hrs; Departure New York (JFK) 1705 hrs Arrival Delhi 1915 hrs (next day). All local timings.
Flight AI 101/102 will not operate up to Washington till further notice.
As there is a backlog of passengers due to flight cancellations over the past few days, passengers are advised to contact Air India before proceeding to the Airport. The call centre numbers from India are: 1800 22 77 22, 0124 2877 777; from USA - 1800 223 7776.
The airline had kept suspended all its westbound flights for the past few days to Europe, USA and Canada due to the volcanic ash.
But passengers of the cancelled flights were given the choice of taking flights at a later date without any penalty or full refund on cancellation, if desired.
Earlier on Saturday, a press release from Jet Airways had said that the Airline has been given permission to fly through Athens in Greece as an alternate temporary transit point through Europe to Newark and Toronto.