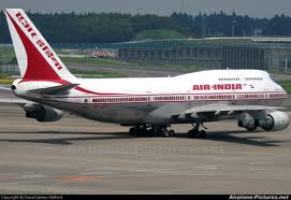 Kathmandu:
After losing a protracted labour dispute in Nepal's Supreme Court last year, India's flagship carrier Air India now faces fresh turmoil in the Himalayan republic with workers threatening to disrupt operations.
The airline's non-permanent staff is reported to have given a five-day ultimatum to the authorities to implement the verdict issued by the Supreme Court of Nepal in June 2010, failing which they have warned they would stop handling cargo at the Tribhuvan International Airport, Nepal's only international airport.
They have also warned that they would ask all ticketing agencies to stop issuing Air India flight tickets and, finally, seek to disrupt flights.
The workers' move comes even as Nepal kicked off its Nepal Tourism Year 2011 on Saturday with the avowed goal of bringing one million tourists this year, over one-fifth of whom would be Indian tourists.
The unrest is the sequel to the court battle started nearly six years ago when casual and temporary workers demanded that they be made permanent staffers.
Air India, which began operations in Nepal in 1952, rejected the demand, saying it was not an organisation registered in Nepal but an Indian government institution. As it began flights to Nepal after an agreement between the governments of India and Nepal, Air India said it was not bound by Nepal's labour law.
However, a bench of Supreme Court judges Khilaraj Regmi and Bharatraj Upreti ruled in June 2010 that since the Nepal office of Air India was opened solely for operations in the Himalayan nation, it was bound by Nepal's labour law.
The court order meant the airline, already incurring losses, would have to absorb 39 casual and contractual workers.
Union sources said Sunday, the airline had offered employment letters to the casual workers, which were rejected because they offered a salary of NRS 3,500. As per Nepal's labour laws, the minimum salary should be NRS 4,600.
The dispute made a senior official from Air India's Kolkata office rush to Kathmandu to look into the issue.
However, it could not be ascertained immediately what the outcome of the meeting with the protesting workers was.
Air India's country operations manager in Kathmandu said he was not authorised to speak to the media.
According to figures released by Nepal's aviation authorities for the first nine months of 2010, Air India suffered a 14 per cent drop in its number of passengers while several other airlines registered an impressive growth.
Air India's competitor from the private sector, Jet Airways, saw a 54 per cent increase while JetLite recorded a nearly eight per cent growth in passenger numbers.