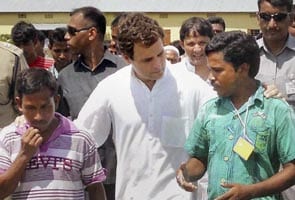 Kokrajhar (Assam):
Congress leader Rahul Gandhi was today forced to change his travel plans as the Indian Air Force (IAF) did not oblige to his request for flying him from Kokrajhar to Guwahati, citing bad weather.
Mr Gandhi was on a day's trip to Assam to meet victims of ethnic violence in relief camps and held discussions with Bodoland Territorial Council leaders on the prevailing situation in the state.
While travelling back to Guwahati with Chief Minister Tarun Gogoi, he was denied permission by the IAF officials to take off due to the bad weather, sources said.
An IAF spokesperson in New Delhi confirmed that Mr Gandhi had wanted to fly to Guwahati urgently for a meeting there but due to bad weather prevailing en route and at the destination, the permission was not given.
During the visit, Mr Gandhi met relief camp inmates and also held discussions with leaders from the Bodoland Territorial Council (BTC) as well as representatives of other civil organisations in the district regarding the prevailing situation along with relief and rehabilitation being provided to the affected people.
He was accompanied by Assam Pradesh Congress Committee President Bhubaneswar Kalita.