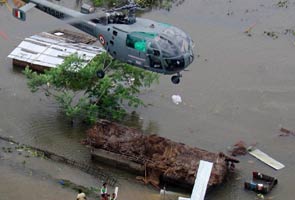 Guwahati:
The Indian Air Force (IAF) has evacuated over 400 flood-affected persons across Assam in the past 20 days.
Air Commodore PE Patange of the Eastern Air Command said besides airlifting 400 marooned persons from various parts of the state, the IAF also airlifted dozens of tonnes of relief materials for distribution.
Mr Patange told reporters that a disaster management cell was operative at the Eastern Command headquarters in Shillong. Cells have also been formed at various places in Assam, he said.
Mr Patange, who is the IAF in-charge of Transport and Helicopter operations in the Northeast, said that currently two Mi-17 choppers were on standby at Mohanbari in Dibrugarh, besides two Chetaks in Tezpur and one Mi-17 in Guwahati.
In addition, two AN-32 transport planes are stationed at Jorhat for flood-relief operations.
"The IAF was put on alert on June 21 after we received request for help from the state government of Assam. We are still maintaining the alert," Mr Patange said. The IAF also dropped food packets and organised medical camps.
Mr Patange said relief and rescue operations undertaken by the IAF in this part of the country would get a boost with induction of three squadrons of the advanced Mi-17 V5 choppers equipped with night vision technology and advanced avionics.
"One squadron, with 10 choppers each, has been set up at Bagdogra and Barrackpore and one more is to come up at Purnea," he said.