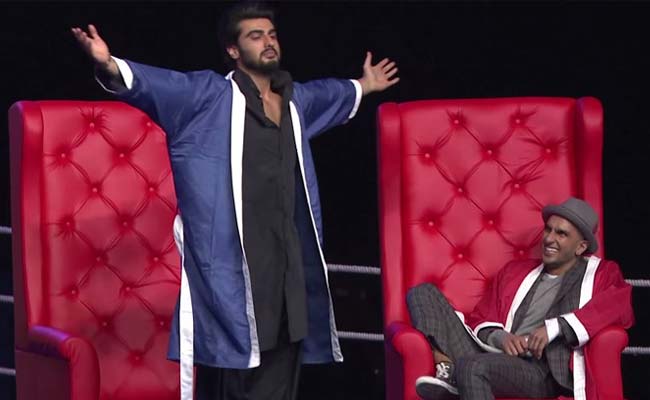 Mumbai:
The Bombay High Court on Tuesday declined to grant any interim relief to Bollywood actors Ranveer Singh and Arjun Kapoor over an FIR filed against them and other film personalities for using "obscene" and "abusive" language during a comedy event 'AIB Knockout' in 2015.
A bench of Justices R M Savant and Sarang Kotwal directed the actors' lawyer to seek the assent of the Acting Chief Justice V K Tahilramani's court for the matter to be heard along with two other related pleas.
One of these two pleas were filed by comedian Rohan Joshi of AIB, a comedy collective, seeking that a related FIR against him be quashed.
The other plea is a Public Interest Litigation (PIL) filed by a law teacher from the city.
The PIL seeks action against the organisers and participants of the show, and also urges the High Court to direct the state authorities to issue guidelines to monitor such programmes on YouTube and similar video networks.
The actors urged the court to direct, by way of an interim relief, the Pune and Mumbai police to refrain from taking any coercive action against them.
The bench, however, said it will consider the prayer once all the three pleas were tagged together and assigned for further hearing by the Acting CJI's court.
On December, 20, 2014, Ranveer Singh and Arjun Kapoor, along with eight other celebrities, including director-producer-actor Karan Johar, actress Deepika Padukone and members of the AIB team had performed at a charity event in Worli.
A video of the event was subsequently uploaded on YouTube which went viral.
In February, 2015, Sateesh Daundkar filed a complaint with the Chief Metropolitan Magistrate of the Girgaon court, claiming the show was "vulgar, obscene and pornographic".
The court then ordered that an FIR be registered against all the ten people.
Soon after, another FIR was registered against all the ten persons in Pune following a complaint by a local alleging obscenity during the event.
Ranveer Singh and Arjun Kapoor approached the High Court earlier this year after they received summons from the Pune police, directing them to visit the police station for questioning and recording their statements.
They have claimed in their plea that the FIRs against them bore an ulterior motive and were filed with "mischievous" and malafide intent, and sought their quashing.
In 2015, another bench of the court had granted interim relief to Ms Padukone, Mr Johar, and the AIB members and directed both the Mumbai and Pune police not to take any coercive action against them until further orders.
Senior counsel Mahesh Jethmalani, who appeared for AIB and for Mr Kapoor and Mr Singh, argued that the programme was full of humour and entertained the audience.
He also urged the court to grant interim relief to Mr Kapoor and Mr Singh, considering that other actors and comedians had already been granted such a relief.