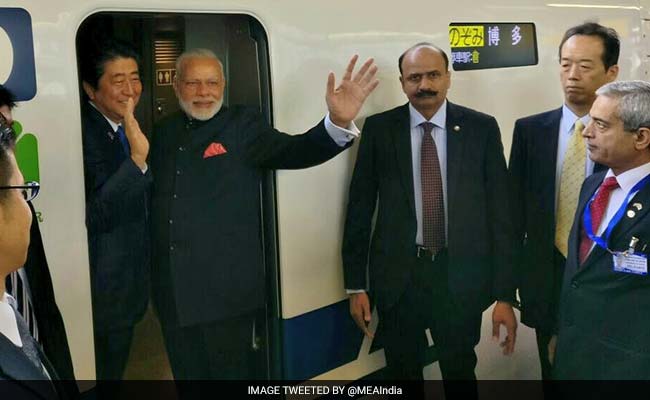 Highlights
PM Modi, Shinzo Abe to lay foundation for India's bullet train tomorrow
It is expected to cost Rs. 1.10 lakh crore for the first rail link
Will run at average speed of 250 km/h between Mumbai-Ahmedabad
Ahmedabad:
Prime Minister Narendra Modi and his Japanese counterpart Shinzo Abe,
who is arriving today for a two-day visit
, will together launch work on India's first bullet train in Ahmedabad tomorrow. The project, a joint venture
between the Indian Railways and the Japanese firm Shinkansen Technology
, signals a big leap for the country's transport infrastructure and overburdened railways.
Here are 10 points on the massive bullet train project
The bullet train is expected to cost Rs 1.10 lakh crore for the first rail link.

Japan will fund 81 per cent of the entire project in soft loans at an interest rate of 0.1%, with repayment over 50 years.

The new train can carry 750 passengers between PM Modi's home state Gujarat and Mumbai, the financial capital. In a day, it will make 70 Ahmedabad-Mumbai sorties.

It is expected to run on an average speed of 250 km per hour, with a top speed of around 320 km per hour - more than double the maximum speed of the fastest train in India.

Of the 508-km stretch, 92 per cent of the route will be elevated, six per cent through a tunnel and the rest on the ground.

The high speed train will pass through the country's longest tunnel of 21 km, of which seven km will be under sea.

The first bullet train is expected to run in less than five years. New Railways Minister Piyush Goyal said the train will start operating on August 15, 2022 - when India completes 75 years of independence.

The bullet train will connect Mumbai and Ahmedabad with a total of 12 stations.

The travel time will be reduced from eight hours to a little over three hours if it stops at all the stations and around two hours if it stops at only four.

A greater stretch of this link, 351 km, will run through Gujarat and 156 km through Maharashtra.
Post a comment