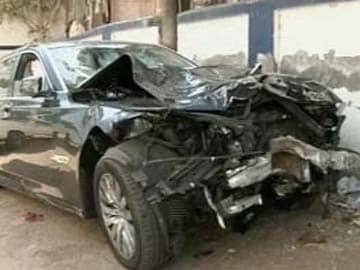 Ahmedabad:
Three main witnesses, including the main complainant, in last year's Ahmedabad BMW hit-and-run case have turned hostile raising fears that the case against a high-profile 27-year-old builder could be weakened.
CCTV footage of a high-speed BMW crashing into the motorcycle of Shivam Dave and Rahul Patel, both aspiring engineers, had shocked Ahmedabad residents in February last year. Why Shivam died on the spot, Rahul succumbed to his injuries at a hospital.
The accused, Vismay Shah, had managed to escape from the accident scene but surrendered before the police three days later. After public outrage, the police was forced to lodge an FIR against the accused.
But more than a year and half later, the case seems to be weakening. After lower courts refused Vismay's bail applications, he was recently granted bail by the Supreme Court.
Three main witnesses, including the main complainant, a close friend of the deceased, have turned hostile. The main complainant, Lalit Gupta, was following his friends on his scooterrete on the night of the accident.
He had told both the police, and later NDTV, that he saw a BMW speeding at 170-180 kmph and a young occupant ran away after crashing into the motorcycle. Lalit has since changed his statement and told the court that he didn't see anything and is now untraceable.
The families of the victims have been left distraught and shocked though they are still hopeful of justice.
"We had never thought that their close friend would turn hostile. It has come as a setback though I am hopeful that we will eventually get justice,'' Rahul's father, Ganshyam Patel said.
The investigators, however, said that Lalit's statement was recorded under section 164 and as such the case is still strong but apprehensions remain.
"It has happened in high profile cases that money power and influence is used. And we are sure that it has happened in this particular case as well,'' Rajendra Shukla, the family counsel said.
The families are now hoping that other witnesses in the case stick to their statement and forensic and other corroborative evidences would finally nail the culprit.