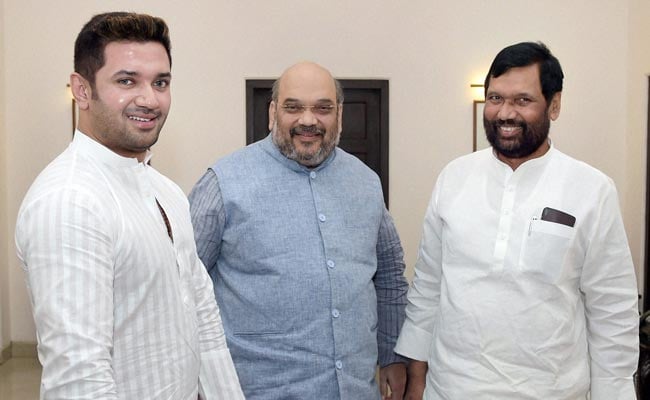 New Delhi:
BJP chief Amit Shah today held talks with Lok Janshakti Party (LJP) head Ram Vilas Paswan as BJP-led NDA today decided to jointly campaign in Bihar assembly polls, slated later this, to take on the Janata Parivar spearheaded by JD(U)-RJD combine.
BJP started discussions over seat-sharing with its allies and during the Amit Shah-Ram Vilas Paswan meeting, it was decided that all NDA allies will campaign jointly and a programme would be chalked out soon to hold public rallies in each commissionerate of Bihar.
However, declaration of candidates for various seats would be done only after the schedule of polls is declared.
"We have decided to campaign jointly. BJP, LJP and RLSP will campaign together and hold public rallies jointly and a date will be finalised soon on when to campaign in each of the commissionerates in Bihar," Mr Paswan said after the meeting.
"We held discussions on how to strengthen NDA. We will move jointly and campaign in each commissionerate in Bihar. We will expose the unholy alliance of Nitish Kumar and Lalu Yadav which has cheated the people of Bihar and is trying to push the state into 'Jungle Raj' and will win with a three-fourth majority," he said.
Asked about the seat-sharing arrangement between the alliance partners, he said, there is no fight for the leader and this will be decided by PM Modi and Mr Shah.
"Narendra Modi is the supreme leader of NDA. There is no fight over seat-sharing. When the elections are declared, we will get together and decide," he said.
Bhupender Yadav, who is incharge of party's affairs in Bihar, said, "Amit Shah and Ram Vilas Paswan held discussions over NDA strategy for Bihar polls. We will jointly launch our poll campaign and will reach out to the public on all issues, where Bihar is gripped with poor law and order and will bring the state back to good governance."
BJP's national secretary Shrikant Sharma said "good governance and development is the main agenda of BJP in Bihar and to save the state from the clutches of jungle raj-2".