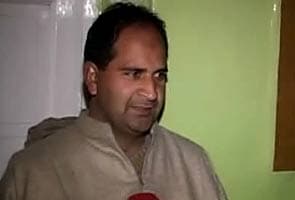 Sopore, Kashmir:
The family of Afzal Guru has countered the government's claim that they were informed about the plan to execute him beforehand, and say they learnt about the hanging at Delhi's Tihar Jail yesterday from the media.
"We were not informed by the government. We learnt about the execution through NDTV channel," Afzal Guru's cousin, Mohammad Yaseen Guru, said in an exclusive interview at his home in Sopore, about 52 km from Srinagar.
Afzal Guru, a Kashmiri Muslim from Sopore, was hanged at 8 am yesterday and buried inside the Tihar Jail. He had been convicted for his role in the 2001 attack on Parliament and sentenced to death. President Pranab Mukherjee rejected Guru's mercy petition last week.
The government says Afzal Guru's family was sent word about the execution in a letter by Speed Post. But the family denied receiving any letter.
"At least on humanitarian grounds, the family should have been allowed a chance to speak to Afzal Guru or meet him and find out if he had any last wishes. It's really unfortunate," said Mohammad Yaseen Guru.
The family demanded that Afzal Guru's body be handed over so that they could do his last rites. Yesterday, his wife Tabassum, through his lawyer ND Pancholi, had requested the Tihar Jail Director General to be allowed permission to perform his last rites in accordance with religious traditions.
"We are writing to you to please permit the family members to give Afzal Guru proper dignified last rites in accordance with the religious traditions...If you could inform us when the family members can perform the 'Namaaz-e-Janaza', we would appreciate it," said the letter.