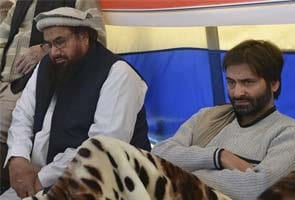 Islamabad:
The Indian government is reportedly upset with a recent meeting between Yasin Malik, the chairman of the Jammu Kashmir Liberation Front (JKLF), and Hafiz Saeed, the mastermind of the 26/11 attacks in Mumbai in which 166 people were killed.
Mr Malik, a moderate Hurriyat leader, was on a hunger strike over the weekend in Islamabad in Pakistan to protest against India's hanging of Afzal Guru, a Kashmiri.
Saeed, who moves freely around Pakistan despite a 10-million dollar bounty announced by the United States, joined him on stage.
Mr Malik told NDTV that Saeed, the founder of terror group Lashkar-e-Taiba, visited him, and did not make anti-India comments at the hunger strike.
Congress spokesman Sandeep Dikshit urged the UPA government to investigate the incident. Union Home Minister Sushil Kumar Shinde said, "I will look into the case."
This is the first time that a Hurriyat leader has been seen publicly with Saeed.