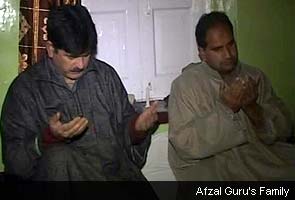 New Delhi:
Two days after he was executed in Delhi, Afzal Guru's family received a letter Monday morning disclosing that he was to be hanged for his role in the 2001 attack on Parliament.
Amid fierce criticism, Home Minister Sushil Kumar Shinde said that a letter was sent by speed post to the family at midnight on February 7. The execution took place two days later.
Even if the letter had reached Guru's hometown of Sopore in Kashmir the next morning, activists argue, it wasn't enough notice for them to travel to the capital to meet him one last time.
(Read letter)
Human rights activists have criticised the government for a multitude of lapses. Guru's lawyers said his family heard of the execution via news channels, and his body was not given to them. Mr Shinde said the family can apply for permission to visit Guru's grave at Tihar Jail.
Kashmir has been tense since Guru's execution - many parts remain under curfew; three people have died and 36 have been injured in clashes with the police. Internet and cable television services are suspended in some parts as a security precaution.
Jammu and Kashmir Chief Minister Omar Abdullah has been unequivocal in his criticism of the hanging. His National Conference party is a member of the Prime Minister's ruling coalition.
"Like it or not, the execution has reinforced the point that there is no justice. We will have to deal with how we can change that sort of alienation. As a human being, I cannot reconcile to the fact that Afzal Guru was not allowed to see his family. That is one of the biggest tragedies of this execution," said Mr Abdullah to NDTV.
(Read)