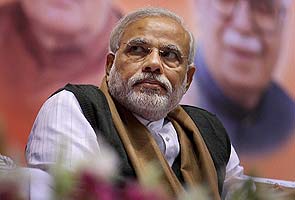 New Delhi/Washington:
After Gujarat Chief Minister
Narendra Modi
was dropped as the keynote speaker at a Wharton Business School event, a Shiv Sena leader has pulled out of the conference in protest. "Wharton's move is an insult to India," Suresh Prabhu told NDTV.
Since Mr Modi won his third consecutive term in office in December's elections, BJP party workers have been asking for him to be named their candidate for prime minister for next year's general elections. That demand pulsed through a conclave of top leaders and workers held this weekend in Delhi, where Mr Modi stole the show.
(Read)
The Wharton controversy is an unsubtle reminder of what stands between the Gujarat chief minister and his aspirations for the country's top job - the taint of being unable to prevent massive communal riots in the state in 2002, in which more than 1,200 people were killed, most of them Muslims.
Mr Modi had been selected by students to address the Wharton India Economic Forum via video-conference. Sources tell NDTV the decision to cancel Mr Modi's speech was the result of overwhelming pressure from the institute's administration and influential alumni.
(Read Wharton School's statement)
The chief minister has not been issued a visa by the United States since the Gujarat riots.
But ambassadors of European countries to India recently confirmed that they lunched with Mr Modi in Delhi in January, ending a decade-long boycott. They said they were obliged to respect the results of democratic process and could not ignore that Mr Modi appears to be playing a national role already for his party.
Last month, Mr Modi addressed students at Delhi's prestigious Shri Ram College of Commerce. A group of students who protested against his visit outside were water-cannoned by the police.