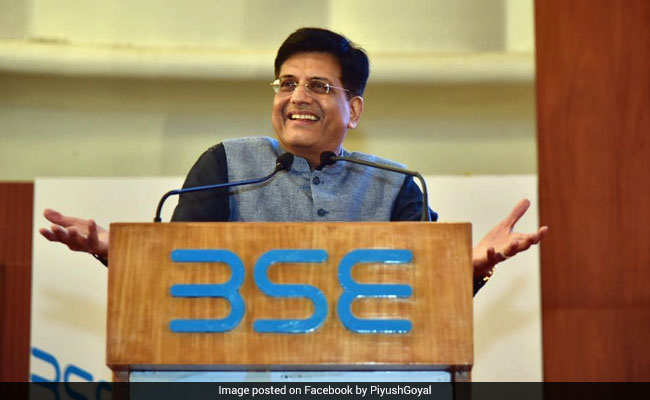 New Delhi:
Hours after Prime Minister Narendra Modi introduced his "naamdar versus kaamdar (dynast versus worker)" jeer for Rahul Gandhi in Karnataka, Union minister Piyush Goyal borrowed the phrase to hit back at the Congress president for a tweet targeting him over corruption allegations.
Rahul Gandhi and the Congress have been demanding Mr Goyal's resignation following a
report in The Wire
on the minister's alleged involvement in a Rs 48-crore scam involving a private company, Flashnet.
Rebutting the charges, Mr Goyal tweeted that he was a
"kaamdaar"
(worker) and not a "
naamdaar"
(dynast) like Rahul Gandhi.
Till 26th May 2014, before I became a Minister, I was a professional Chartered Accountant & investment banker. Unlike you, Mr @RahulGandhi, I have not learnt well the art of living without working. I am also a kaamdaar (worker) and not a naamdaar (dynast)

— Piyush Goyal (@PiyushGoyal) May 1, 2018
Rahul Gandhi's tweet this morning had listed three points to justify his demand for Mr Goyal's resignation.
A graphic linked to his tweet alleged that the minister had sold the stock of a company he owned at 1000 times the face value, while he was a junior minister in the power department. The purchaser, Piramal group, had an interest in the power sector, Mr Gandhi alleged.
Piyush Goyal's, 48 CR. #FlashNet Scam is about deceit, conflict of interest and greed. The evidence is on the table. Yet, the media will not touch the story.



It is a tragedy for our country when journalists entrusted to stand for the truth, will not speak.#GoyalMustResignpic.twitter.com/WeUaSAT8wg— Rahul Gandhi (@RahulGandhi) May 1, 2018
Mr Goyal, who was handling the power ministry as a junior minister with independent charge, was elevated to the cabinet in September last year with the railways and coal portfolio.
Providing a new descriptor to his party to target Rahul Gandhi with, PM Modi had said derisively at a rally in Karnataka earlier today: "Rahul ji, u are naamdaar, we are kaamdaar. We can't even sit in front of you."