New Delhi:
Highlights
Smriti Irani hit out at Rahul Gandhi over his remarks on dynasty
"Most of the country runs like this:" Mr Gandhi on dynastic privileges
The BJP leader also described Mr Gandhi as "a failed dynast"
Union Minister Smriti Irani, fielded by the BJP to take on Rahul Gandhi over his speech in the US today, ripped into the Congress vice-president saying his attacking and belittling Prime Minister Narendra Modi in a foreign country was "deplorable." She described Mr Gandhi as "a failed dynast" who "chose to speak about his failed political journey at a prestigious international institution," and said it was "appalling to hear him say '
dynast run everything in India'
when asked about dynastic politics. He seems to have forgotten that in the Independent India, there are many citizens who have contributed in different walks of life, but they do not have any political legacy. The Prime Minister himself is a man who has risen from a humble background, as have the President and the Vice President."
Smriti Irani
said in the last national elections, when PM Modi and the BJP won a historic mandate, Mr Gandhi's party suffered its biggest defeat and that showed that "India is not dynastic in nature."
Reacting to Ms Irani's attack on Rahul Gandhi, the Congress said the criticism by the government is "unwarranted and unjustified".
"It is the Prime Minister of India who is guilty of insulting India on international soil. The Prime Minister called the country corrupt on his first visit abroad and also said on another occasion that Indians used to feel ashamed to accept they are Indian on international soil," Congress' Anand Sharma said.
Rahul Gandhi, who began a two-week tour to the US by addressing students at the University of California's Berkeley today, had been asked about accusations that he is a dynast, when he said, "Most of the country runs like this. That's how India works."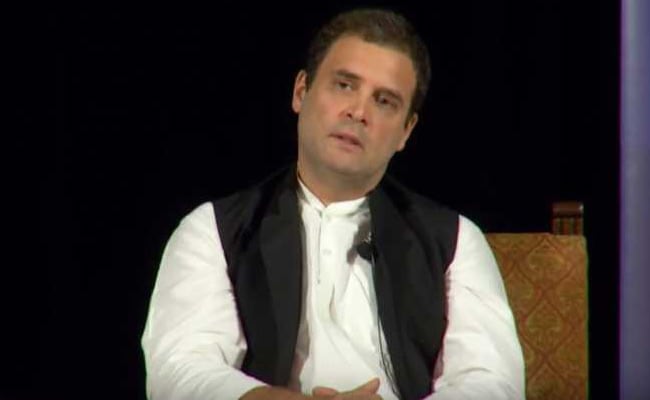 He listed several prominent Indians born into famous families saying, "Dynastic politics is a problem in all political parties. Akhilesh (Yadav), (MK) Stalin (son of M Karunanidhi in DMK), Abhishek Bachchan (son of Bollywood superstar Amitabh Bachchan) -- are all examples of dynastic legacy, also (Mukesh and Anil) Ambani (son of Dhirubhai Ambani), that's how the entire country is running."
In his speech, Mr Gandhi attacked PM Modi and the BJP, alleging that "politics of divide and polarisation is radicalising and isolating people in India." He also alleged that faulty implementation of the Goods and Services Tax (GST) and last year's notes ban have led to a decline in economic growth.
Smriti Irani's point by point rebuttal was laced with barbs. She said it was not new for Mr Gandhi to attack the Prime Minister, but "since his attacks were not working at home, he has gone abroad. He seems to have forgotten that the voter is here in India."
The minster rued that the opposition leader had no good words to speak about cooperative federalism in his speech abroad.
Smriti Irani, who is the cabinet minister for Information and Broadcasting and for Textiles, had taken on Mr Gandhi in the 2014 national election in his family stronghold Amethi in Uttar Pradesh. Though Mr Gandhi won, it was by a much reduced margin compared to earlier years.
Ms Irani, who is a Rajya Sabha MP and was elected to a second term last month, often visits Amethi making scathing assessments of Mr Gandhi's performance as its Member of Parliament.
Get Breaking news, live coverage, and Latest News from India and around the world on NDTV.com. Catch all the Live TV action on NDTV 24x7 and NDTV India. Like us on Facebook or follow us on Twitter and Instagram for latest news and live news updates.