Berkeley, California:
Highlights
Rahul Gandhi addresses students at UC Berkeley
Most of the country runs like this: Mr Gandhi on dynastic priveliges
That's how India works, don't go after just me: Mr Gandhi
Rahul Gandhi believes that it's time to stop singling him out for acquiring his job on the basis of his DNA. "Most of the country runs like this. That's how India works," Mr Gandhi told students at the prestigious University of California in Berkeley. Listing a series of prominent Indians born into famous families, the 47-year-old Vice President of the Congress said, "Dynastic politics is a problem in all political parties. Akhilesh (Yadav son of Mulayam Singh Yadav of the Samajwadi Party), (MK) Stalin (son of M Karunanidhi in DMK), Abhishek Bachchan (son of Bollywood superstar Amitabh Bachchan) -- are all examples of dynastic legacy, also (Mukesh and Anil) Ambani (son of Dhirubhai Ambani), that's how the entire country is running."

"Don't go just after me," Mr Gandhi said at the event.

Mr Gandhi is expected to take over by October as president of the Congress, a post currently held by his mother Sonia Gandhi.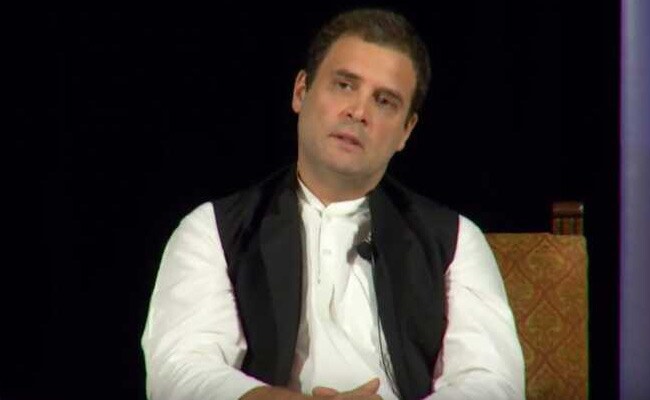 For the last few years, he has served as the party's main face including in the 2014 general election, when Prime Minster Narendra Modi's victory ensued the worst-ever performance for the Congress, which was left with just 44 Lok Sabha seats.


While rebutting talk of the Congress as a family shop, Mr Gandhi acknowledged that the party was in a state of decay ahead of the last general election. "Around 2012, arrogance crept into the Congress party and we stopped having conversations with people," he told students.
Mr Gandhi is often described by critics as a political dilettante, a reputation spurred in part by his abrupt disappearances abroad mid-way through show-stopping political confrontations between the government and opposition parties like his.
"Being a reluctant politician is perspective from 1,000 BJP followers sitting on machines only spreading rumours about me," he said, referring to the BJP's social media network.
Get Breaking news, live coverage, and Latest News from India and around the world on NDTV.com. Catch all the Live TV action on NDTV 24x7 and NDTV India. Like us on Facebook or follow us on Twitter and Instagram for latest news and live news updates.