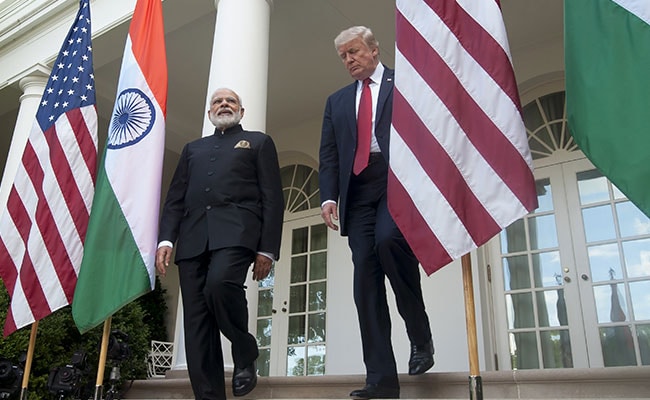 Highlights
India has objected to $54 billion China-Pak Economic Corridor
The corridor runs through Pakistan-Occupied Kashmir
US agrees with India's concerns about territorial sovereignty
New Delhi:
During his visit to the White House, Prime Minister Narendra Modi has won the endorsement of the US on India's objections to China's massive initiative to open land and sea corridors that connect it to Central Asia.
Referring to the meeting between PM Modi and US President Donald Trump,
the joint statement that lists their shared goals and values said
, "The two leaders support bolstering regional economic connectivity through the transparent development of infrastructure ... while ensuring respect for sovereignty and territorial integrity, ...and call on other nations in the region to adhere to these principle."
India has objected to China's "new Silk Road" project, because part of it, an economic corridor, runs through Pakistan-Occupied Kashmir. The government has said the construction and plans violate "India's territorial sovereignty", which the US appears to have accepted.
Last month,
India boycotted a summit in China that laid out details of President Xi Jinping's signature project
. It was attended by top representatives from 60 countries including the US. The "China-Pakistan Economic Corridor" name endorses Pakistan's claim to Kashmir, which is unacceptable to India.
The failure of China's efforts to bring India on board shows the depths to which relations between the two countries have fallen over territorial disputes and Beijing's support of Pakistan.
India's snub to the "Belt and Road" project is seen as the strongest move yet by PM Modi to stand up to China.
Those who urge India to negotiate a settlement on the differences with Beijing, say that due to the size and pace of expansion of its economy, India could potentially be the biggest recipient of Chinese investment from the plan to spur trade.
China has not yet offered any specific projects to India, but many existing schemes, such as a Bangladesh-China-India-Myanmar Economic Corridor that has been planned for years, have now been wrapped into the Belt and Road enterprise.
China is also conducting feasibility studies for high-speed rail networks linking Delhi with Chennai in that would eventually connect to the modern day "Silk Road" it is seeking to create, reports news agency Reuters.
India has other worries over China's growing presence in the region, fearing strategic encirclement by a "string of pearls" around the India Ocean and on land as China builds ports, railways and power stations in country such as Nepal, Sri Lanka and Bangladesh.
(With inputs from Reuters)