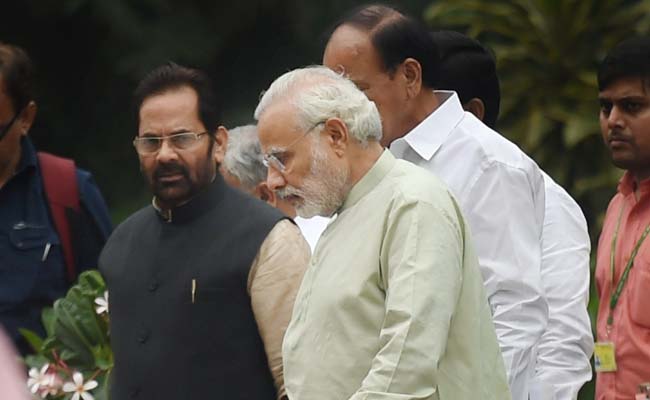 New Delhi:
On Friday evening, Prime Minister Narendra Modi arrived at Madhyanchal Bhawan in Delhi's Vasant Kunj, where a three-day meeting called by the Rashtriya Swayamsevak Sangh or RSS was drawing to a close.
"I am proud to be a swayamsevak," the PM reportedly said in his 15-minute speech at what has been
described by many as a review of his government's performance by the RSS
, the BJP's ideological mentor.
"The government is working for the development of the country...we'll soon see the results of our efforts," the Prime Minister told the gathering, that included members of 15 RSS affiliates, sources said.
Over the last three days, PM Modi's top ministers have attended the meeting for long hours and made presentations. They also received suggestions on policy in crucial areas like the economy, education and national security from the RSS.
"RSS decides who will be leaders, RSS decides the policies, the BJP is merely a political front," said Anand Sharma of the opposition Congress, which has
objected to the closed-door briefings by the ministers
.
"Where is the secrecy? We are citizens of the country as much as anyone else. Ministers talk at conferences, brief the media, just that way they talked to us," said RSS leader Dattatreya Hosabale.
The meeting has focused on charting what is being called a "course correction" to get rid of negative perceptions that the government might have earned from recent controversies and political setbacks.
But the symbolism of the PM and his top generals openly driving in to attend an RSS meeting in capital Delhi is seen as more important. A sign that the RSS and the ruling BJP have upgraded their relationship and will no longer be secretive about their coordination.
The RSS effect was seen in the swiftness with which the government has reportedly prepped to make an announcement in the next two days on the One-Rank-One-Pension or OROP demand of ex-servicemen. On the sidelines of the meeting, the RSS had allegedly asked senior minsters to resolve OROP expeditiously. The discussion was officially denied.