New Delhi:
Highlights
The deal is perhaps the last bid for the PDP-BJP alliance
Sources say President's Rule is not an option right now
PDP lost Srinagar Lok Sabha by-poll to NC's Farooq Abdullah
The next three months are going to be crucial for Kashmir. With relentless violence searing the Kashmir Valley — her stronghold — for months now, Chief Minister Mehbooba Mufti met Prime Minister Narendra Modi this morning and insisted that to restore peace, the centre will have to relaunch the policy introduced by former Prime Minister and BJP gold standard Atal Bihari Vajpayee.
"At a time when stone pelting and firing are on, talks are difficult," she acknowledged, "but the Prime Minister has invoked Vajpayee many times (and) there is a need to start building from what Vajpayee had achieved," she said after their 40-minute session.
In a later meeting with Home Minister Rajnath Singh, Ms Mufti outlined a three-month plan which has the state government attempting to restore enough calm to allow for talks between the centre and stake holders including protest groups. The deal is perhaps the last bid by the PM's party, the BJP, and Ms Mufti to continue their alliance in Jammu and Kashmir.
A growing anger against the state has seen civilians forming mobs that attack security forces with stones nearly every day. During a recent election, schools were set on fire and large groups forced their way into voting centres shouting anti-India slogans. The centre has communicated that stone-pelters, who often comprise of young students including women, will be severely dealt with. Army chief Bipin Rawat has said they will be considered "anti-nationals", a statement which was not objected to by the centre.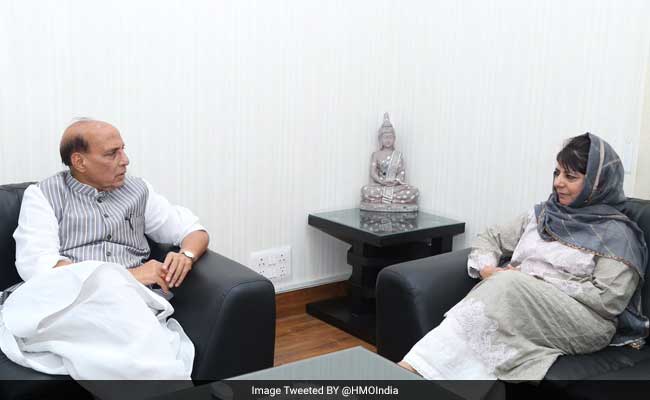 "Some involved in stone pelting are disillusioned while others are being led astray," said Ms Mufti about the violent provocation that security personnel encounter; the centre has indicated it will not tolerate her approach.
Leaders like Ms Mufti and others have urged the centre to begin talks with stakeholders in Kashmir, following Mr Vajpayee's famous commitment to "Insaniyat, Kashmiriyat, Jamhooriyat" as the framework for dialogue. But Ms Mufti wants the Hurriyat — a group of separatist leaders — to be party to the talks, pointing out that Mr Vajpayee had included them as a necessary component of a solution-finding process for the troubled state.
Recent developments including losing the Srinagar Lok Sabha seat to former Chief Minister and political opponent Farooq Abdullah have left Ms Mufti's party worried about shriking popularity in areas that were its stronghold. Another recent local election in which the BJP was unable to help Ms Mufti's candidate win, despite an understanding, has been labelled "back-stabbing" by her leaders.
With reports of her state being put under President's Rule —which means it would be governed by the centre — Ms Mufti said, "That question needs to be addressed to the central government."
However, sources in the union government say that is not an option right now.
"The PDP-led government is a buffer between the centre and the unrest. Removing it at this point will mean creating a Kashmir vs centre situation in which even the PDP will be forced to take an anti-centre stand," a BJP leader said, asking not to be named.