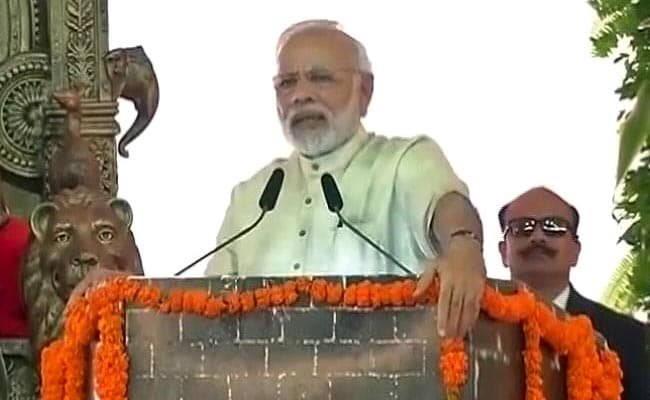 New Delhi:
In his last 'Mann Ki Baat' address this year, Prime Minister Narendra Modi said his government will soon bring in a strong law to effectively deal with 'benami' or proxy-owned properties. "This is just the beginning of our fight," he said, asserting that there is no going back on the fight against corruption and black money after the notes ban.
"You are possibly aware of a law about Benami property in our country which came into being in 1988, but neither were its rules ever framed, nor was it notified. It just lay dormant. We have retrieved it and turned it into an incisive law. In the coming days, this law will also become operational," said the Prime Minister on Sunday.
Action against proxy ownerships, he said, was a major step to check corruption and black money. "We are going to take action against the properties which are purchased in the name of others. That is the property of the country," he added.
The law against 'benami' properties has been amended so that wrongdoers can face up to seven years in jail and a fine which may extend to a fourth of the market value of the property. Also, the government can seize the deposits of people using other accounts to convert unaccounted wealth into white money.
PM Modi urged people to help make the "war on corruption" a success and said common people are coming forward with information about hoarders and playing a big role in catching wrongdoing.
"I assure you that this is not the end. This is just the beginning in our fight against corruption. We have to win this war against corruption and black money. There is no question of stopping or going back in this fight," he said.
On the criticism of the multiple rule changes since the November 8 notes ban, the Prime Minister said: "The government, being a sensitive government, amends rules as required, keeping the convenience of the people as its foremost consideration, so that citizens are not subjected to hardships."
He dismissed what he called "rumours" that political parties enjoy all concessions and exemptions. "Some people are spreading rumours that political parties enjoy all kinds of concessions. These people are absolutely in the wrong. The law applies equally to all. Whether it is an individual, an organisation or a political party, everyone has to abide by law and one will have to," he said.