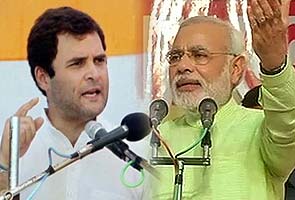 New Delhi:
Congress and BJP on Sunday crossed swords over Narendra Modi's attack on Rahul Gandhi's 'beehive' remark with three ruling party leaders saying it did not need lessons on patriotism and also that Delhi is still far off for the Gujarat Chief Minister.
In a sharp attack on Mr Modi, I&B minister Manish Tewari asserted that metaphors denoting cohesion and unity were beyond the comprehension of "self-appointed jingoists" while his ministerial colleague Kapil Sibal said the BJP strongman should not be in a hurry to come to the national capital, saying "Dilli dur ast" (Delhi is still far off)".
Another Union Minister Rajiv Shukla said the Congress did not need lessons from patriotism from BJP as none of its leaders "had fought for the freedom of the country".
BJP spokesperson Balbir Punj sarcastically said the Congress vice president's comparison of the country to a beehive is correct if assessed from the ruling party's point of view and went on to talk about the lives of bees.
"The comparison made to a beehive is correct according to the Congress. What is there in a beehive? There is a queen bee, and all the other bees toil and gather honey, the taste of which is taken by the others and the queen bee does not do any work," Mr Punj said.
Stating that the Congress has only this image about India, Mr Punj said, "What or who is the queen bee here? But the ordinary bees here are the country's common people for sure."
Without naming Rahul, Mr Modi said on Saturday that he was "deeply shocked and very pained" to hear a Congress leader describing the country as a beehive.
"Is this the way the Congress thinks? I want to tell my Congress friends that they may think of this nation as a beehive but for us this nation is a mother," Mr Modi had said.
He "pleaded" with the Congress not to insult the "mother". "If you (Congress) don't understand India, then learn from others but don't insult the country," he said.
Targeting Mr Modi in a post on 'twitter' Mr Tewari said, "Amusing-Metaphors denoting energy diligence cohesion and focus unity of purpose completely go over the heads of some self-appointed jingoists."
"He (Modi) is talking about Bharat Mata. I mean not even a single BJP leader fought for the freedom movement for Bharat Mata," Mr Shukla said.
He also added that Mr Modi was giving lessons to someone whose father and grandmother had died for the country.
"What is he talking about? First he should learn how the sacrifices are made for Bharat Mata. There has been no sacrifice from any BJP leader so far for the country. It's clearly lip service that he is doing. And I don't think we should even respond," Mr Shukla said.
Mr Sibal also hit out at Mr Modi. "There are two things needed for politicians who want to come to the Centre. One is that they should talk sense and the second is to not show too much hurry for coming to Delhi, Dilli dur ast (Delhi is still far off)," Mr Sibal said in response to reporters' questions on Mr Modi.