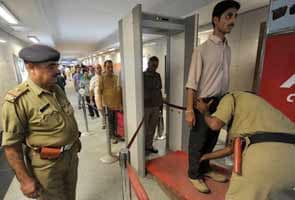 New Delhi:
No more fooling around on Delhi Metro trains for couples.
The Delhi Metro Rail Corporation (DMRC), plagued by leaks of CCTV videos of couple getting intimate on their trains, has asked people to maintain "decorum and etiquette" while travelling on the metro.
The DMRC's statement came just after another video surfaced online, showing a couple on the stairs of a Metro station and inside a train. The video clip is being investigated, said the DMRC spokesperson Anuj Dayal.
Earlier, over 250 clips of couples in near-empty trains were made into two-to-eight-minute videos and uploaded on porn sites. Reports suggested that at least 1.5 lakh people viewed what came to be known as "metro porn", before the leak went public.
The DMRC complained to the cyber cell of the Delhi Police and blamed the Central Industrial Security Force (CISF) for the leakage as it monitors CCTV footage. But CISF denied it, saying they were just the monitoring agency.
The metro ferries nearly two million passengers on weekdays and makes over 2,800 trips daily. Couples have been known to seek out compartments that are almost empty during late hour.
But both the DMRC and the CISF plan to get tough on such couples from now.