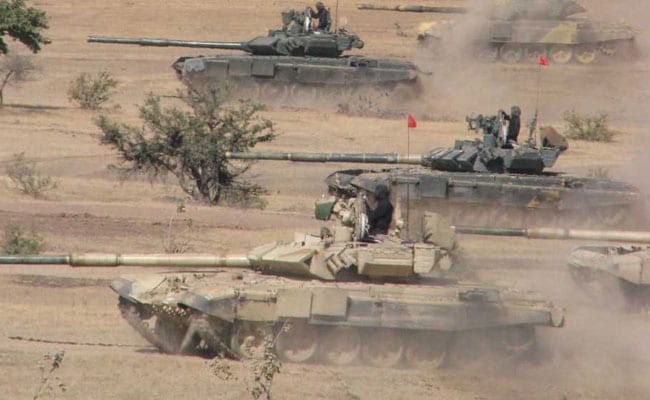 Highlights
Indian Army knocked out of International Tank Biathlon in Russia
Army chose Russian designed T-90 Tank instead of indigenous Arjun tank
India topped the group in earlier round, was seen as strong challenger
New Delhi:
The Indian Army has been knocked out of the high-profile international tank biathlon taking place at the Alabino ranges in the Moscow region of Russia after both the main and reserve T-90 main battle tanks developed mechanical problems.
As a result of the breakdown of both tanks, the Indian squad was unable to complete the race and were disqualified. This is a sad end to the competition for the Army's tank crews since they had topped their group in the earlier round and were seen to be strong challengers to win the competition.
Russia, Belarus, Kazakhstan and China have now entered the final round of the event. Russia and Kazakhstan participated with T-72B3 tanks, Belarus with a modernised T-72 and China sent its indigenous Type 96B.
India
decided to field its top of the line Russian designed T-90 Main Battle Tank instead of the indigenous Arjun tank which was widely expected to participate at the games this time.
Nineteen teams in total participated in the exercises with the top four entering the final. In the past, India had participated in these games using T-72 tanks provided by the Russian hosts. The Army felt disadvantaged using these tanks and was keen to field its best tanks and best crews. Consequently, two state-of-the-art T-90s were shipped across to Russia for these games.
Each participating team has up to 21 personnel including team members, a coaching crew and a maintenance unit. There are three stages in the competition - all teams participated in the individual race. Twelve teams made it to the semi-finals including India which involved a relay race. The top four teams will also participate in a relay race in the finals.