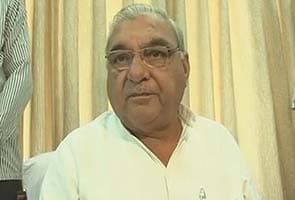 New Delhi:
After 19 rapes have been reported in his state in just one month, Haryana chief minister Bhupinder Singh Hooda has finally announced measures that he says will check crime against women. Among them, a crime-against-women cell and an attempt to ensure quick trials in rape cases to bring the guilty to book.
Mr Hooda said after a meeting with the state's top cops today that a senior police officer of the rank of ADGP (Additional Director General of Police) would head the crime against women cell and that a woman deputy superintendent of police would be appointed in every district police headquarters. The police, he said, would also set up a helpline for women. Additionally, he has promised to appoint special prosecutors to ensure speedy trial of cases of crime against women and has written to the state's High Court to ensure these are heard in fast-track courts.
Hours before Mr Hooda announced these measures, came reports that a six-year-old child had been lured with chocolate and allegedly raped by three men in Haryana's posh Gurgaon, which is a Delhi suburb. Rapes of Dalit and other women and even minors continue unabated in the state despite a high-profile visit by Sonia Gandhi earlier this week, seen as a damage-control exercise in a Congress-ruled state.
Slammed from all quarters for a very inadequate response to a worrisome situation, Mr Hooda's cause has in no way been helped by some foot-in-the mouth statements by his party men and the intransigent attitude of the powerful Khaps or groups of village elders that exert huge control over social norms and traditions in rural areas.
In more damage limitation, Haryana congress president Phool Chand Mulana has issued notice to a party leader from Hisar, Dharamveer Goyat, who said yesterday, "90% girls go out of their own will, but later other criminal elements join in and the girl gets trapped."
Mr Mulana himself faced flak when he said earlier this week that the rapes were a "conspiracy to malign the government." The Congressman said the spate of rapes, many of them involving Dalit minors, was being sensationalised as "a political conspiracy."
Disciplinary action has been taken against him, but the Congress' Mr Goyat is clearly not alone in believing that the preventing young girls from stepping out is the only way to prevent assault.
Haryana's Khaps, which have in the past prescribed how girls should dress and that they should not step out so as not to provoke young men, have now also recommended that to check rape, young men and women should get married very young so that their "sexual desires find safe outlets."
The Sarva Khap Jat Panchayat, an umbrella body, has said it will discuss the bizarre suggestion that the marriage age for girls be lowered to curb rising incidents of rape in the state. A meeting in Sonipat, about 40 km from Delhi, will discuss how the government could be compelled to get the bar lowered in Haryana on Saturday. Khaps have no legal sanction, but their word serves as law in Haryana villages.
"The meeting aims at knowing the views of various khap panchayats about the issue of lowering the marriageable age to prevent rape incidents in the state. Representatives of around 100 khaps across the state will attend the meeting to share their opinion and to present their proposals on the issue," Sube Singh Samain, spokesperson of the Sarva Khap Jat Panchayat, said.
The Khaps have found backing from Indian National Lok Dal leader and former Haryana chief minister Om Prakash Chautala who said: "I am with the khaps on this issue. This will protect women."