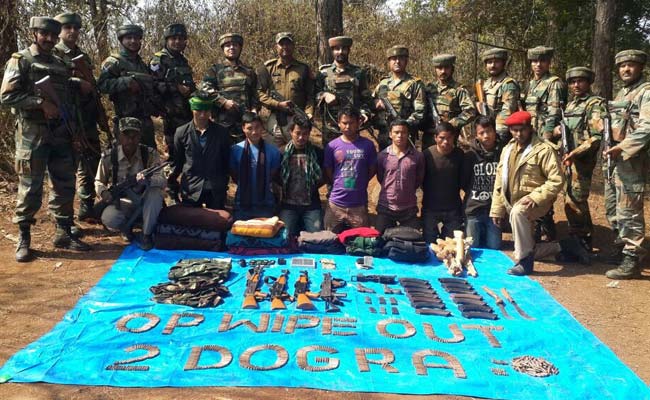 Karbi Anglong, Assam:
It took 16 hours for a joint team of the Indian Army and the Assam Police to comb through the dense forests of Assam's Karbi Anglong district, as they hunted for seven top leaders of the militant outfit Karbi People's Liberation Tiger or KPLT on Monday. This was followed by a fierce gunfight that lasted for over 45 minutes, as the militants refused to give up.

The arms haul from the militants can be considered to be an indicator of the kind of firepower militant groups possess in Assam. A considerable amount of arms and ammunition were recovered, according to sources in the Indian Army. These include four AK series rifles, two pistols, one grenade launcher, 14 magazines of AK Rifles, six magazines of pistols, 2,343 rounds of 7.62 caliber ammunition and 14 rounds of 9 mm caliber ammunition. Dummy rifles to train new recruits and various incriminatory documents like extortion notes of the KPLT were also recovered from them.

In another operation on Sunday, the Indian Army's Red Horn Division had apprehended two militants who were in charge of finances and 'auditing' of funds of the KPLT, along with one cadre of the same militant group from Karbi Anglong.


Based on the information gleaned from their interrogation, this operation was launched by the Army and the police, which led to the arrest of the seven militants on Monday.
Various terror groups across Assam have been on the run since the time the security forces intensified their operation against them, in the wake of the killing of over 70 tribals in Sonitpur and Kokrajhar districts of Assam in December 2014.