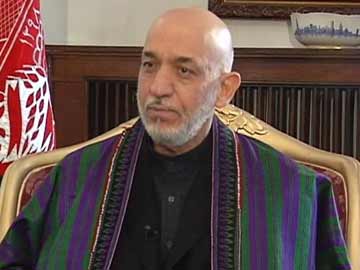 Kabul:
Afghanistan President Hamid Karzai said he will push for heavy weaponry from India in his meeting with Prime Minister Manmohan Singh in New Delhi today. Afghanistan has asked for 150 battle tanks, field guns, howitzers and one squadron of attack helicopters.
Acknowledging India's wariness to supply heavy weaponry, Mr Karzai told NDTV, "...We will leave it up to India to see whether India can support us or not. It's not a position of forcing India in the name of friendship to help us as we need." As per India's policy, only non-lethal equipment like transport aircraft and helicopters can be supplied, along with providing training Afghan personnel in India.
President Karzai also said India should send military trainers to the 'Sandhurst in the sand' military academy set up by UK in Kabul. "We have generally discussed this and this is an area that India is not hesitant in providing help so surely that's something that can be talked about and can be done."
The President also confirmed that India and Russia are working together to restart an arms maintenance facility near Kabul.
As coalition forces prepare to withdraw their combat troops and equipment, President Karzai has stalled signing a deal with America that will allow nine bases and up to 15,000 foreign troops to stay after the withdrawal of combat troops by December 2014.
India has been providing transport, logistical and engineering equipment to Afghanistan as well as training its security personnel in India. There are currently about 300 Afghans in Indian military academies and over a 1000 have been trained in the last decade. But, with the fear of heavy weapons falling in to the wrong hands(the Taliban) and with Pakistan's increasing insecurity with India's deepening footprint in Afghanistan, it is highly improbable that New Delhi will agree to the more contentious of President Karzai's requests.